The France Experience
February 14, 2011
What is it about this place we visit that makes it different from where we are from?. Is it the oldness of the buildings?, is it the details on the buildings which spoke of its creator? Or the statues attached to it. Is it the tightness of the roads and houses that makes the streets seem like they are suffocating?. I believe it is the awkward moments we have with our host families, when in an instant we stand silently staring at each other, without a clue or a sense of what each other just said or is saying. In that moment when all hopes of communication fails and the barriers of language step in, it is in that moment that our true humanity comes out, and memories of a language once spoken through action and portrayal; then and only then I believe, are we able to understand each other. This trip to France has been the best one of my young teenage life, the best summer so far in life. Many things could have happen the wrong way or just went wrong but It all went right, nothing made a wrong turn until the end when I heard the desk officer for Air France say "sorry sir, we cannot let you on the plane without the proper documents, the united states immigration won't allow it". Everything was right until I couldn't return home with the Group.

It all started on the 29th of June 2010, the departure date. I can say I was nervous for a moment. Upon arriving at the Airport, I was greeted and escorted to my group; the theatre geeks we called ourselves. I still remember the smile on my group leader's face, the smile that said welcome home, a pure hearted smile. It felt like I was living my family to go stay with long lost relatives or cousins. Previously I had thought meeting the group was going to be a very awkward and uncomfortable moment but still I arrived open minded. Surprisingly every member arrived with the same open mindedness and knew all we got was each other.

Upon arrival at the hotel in Paris, we met new group members; Babantunde from Nigeria and Omer from Turkey. My two roommates, the guys who were going to rip off my American Idealism and open my eyes to the world, to myself and my true culture of origin. Broadened my views of the world and made me more culturally aware. Sometimes I am ashamed of where I am from, afraid of being different and laughed at or don't fit in society. That was until I met Omer, my Turkish delight I called him sometimes; his love and pride of his background made me rethink mine or maybe it was the one night when we sat and talked till dawn with him teaching me how to speak Turkish and how life in turkey was. That was when I realize we weren't so different and all cultures are the same, the difference is some are slightly modified than others.

Few days into the orientation and also when we came back from the homestay I realized something; Paris does rise up to its reputation. It is really what I expected it to be, it surpassed my expectations and left me breathless, speechless, chocked by emotions and words. France in general is a romantic, thought a true dream of romance roams in Paris. One could Imagine its beauty attracting the eyes of Cupid, he who now resides in Paris. What made this experience more interesting was the company that surrounded me starting from the leader, sweet, kind, and who even in her angry mood seemed sweeter. The group leader Elizabeth knew just what to say, her words comforted and lifted us up, it gave us something motivating. She practically satisfied almost every one of us and covered our needs. She learned how to be a good parent except in a slightly stressful way. My group members were the best, they understood me more than my friends will ever understand me.

The orientation in Paris was over and now we were taking the train to Avignon for the Homestay. I was nervous and scared. Scared because I was going to be living with a complete family. I am not use to that. My mum is a single mum and growing up without a father, I developed an ideology of men in my head even though now that ideology has changed. I told my group leader, I will be most comfortable with my host mum than with my host dad but I was wrong. When I arrived at my host family's house, I wasn't scared anymore, I wasn't terrified, I might have been uncomfortable but their warm smiles and excitement to see me was gave me comfort. During the homestay I was comfortable with both parents but more with my host dad, how wonderful this family was. My host sister was to leave for England the next day and was going to be gone for two weeks. Such excitement filled her and for some reason she felt obligated to fill two weeks into one day. But the most important relationship was between me and my host brother. He hardly understood what I said when I spoke in English and I hardly understood what he said, when he spoke fast in French like a parrot. But we were strongly intact and interactive with each other. The spark of this relationship was at the Group Kayak trip, this trip I believe sparked a lot of relationships. The kayak trip was the best of me and my host brother. For the ladies in the group it was their favorite moment because that's where they met what they called "hot Kayak Guy" in short terms the " Kayak Guy". I and my host brother did not listen carefully to the instruction, so when we got on our canoe we did everything wrongly and was confused. So as we paddled as fools and fought the water forces who weren't so easy to defeat; we thought we were good until in one fast second our canoe tipped over, next thing I see are bubbles, I was underwater and I couldn't swim, all I had was the few lessons my host brother had taught me a day before. I thought it was the end and for a moment everything went slowly, It was like God paused time and then put it on slow motion. A second became a minute, but then I rose up to the top seeing and hearing my little host brother swimming and asking me to hold up to the canoe so he can pull it and me to the banks. Here there was a 15 year old saving my life and making me feel safe. With help from a group member and her host sister, he accomplished his goal, we both got back into the canoe haven learned our lessons. We paddled perfectly after that. That was the highlight of my trip, a memory that shall never come to pass.

The homestay also took me to the city of Arles, a city called I "photo city" because we went to a photographic museum. We saw Picasso and all other photographers but one caught my attention; the " Jaillissement d'ecume, l'estacade le havre 1935" . These pictures spoke of a thousand words, in this images one could find a sense of hope and power; the pictures taken by photographer Pierre Jahan. The Images and photos of Picasso also spoke of a world of details; of the human soul. Also listening to the piece " the silent voice", one could feel how censored and detailed human actions are whether it being voices, the cars moving, the water running down ones throat. And what harmony it sounded when brought together. The homestay was a blast and everything was awesome, in addition of making twenty new friends and alliances to last a life time.

After the homestay, we returned to Paris. The last days in France was so hectic and tiring, it was the work days and introductory into the real French language and a good introduction into the French theater. It was were we all actually came together, helping each other as a team and covering each others weakness. One might wonder who the mini leaders, for there is always a leader in the group but in this group it was different. We were all were leaders and we all had our times to implement our ruling. The Theater professor was great and showed so much passion which I fed on to get motivated in memorizing my lines. It was a crazy awesome experience doing a play in French. It was the best feeling doing a foreign play in its country of origin. The last nine days were filled with long nights, too much coffee, more school feeling. But the end results were awesome. Jean Paul Lemen, the director, did his job right for in the end we learned more than a year of French an American French class could teach.

In conclusion, France is a beautiful place, a place I would love to live in one day. France is like New York except more beautiful with lots of more touristic attractions. I learned no matter where you are in the world, there is always going to be something connecting you to the natives in that area, that thing is called the human nature. I am going to miss everything and everybody I befriended. I am going to miss my conversations with the metro train, who spoke of a long and tiring day as mine, whose cries I could hear as it glides through those tracks. I am going to miss the rush and the runs we had when we are late for an appointment. I am going to miss the smile on every persons face, the joy of being together. I am going to miss my life as a Parisian. I am going to miss our dinner that went on with my talking and loudness. I am going to miss being in Maine, Wisconsin, Los Angeles, San Francisco, Arizona, Turkey, Nigeria, Kansas, Boston, Virginia. The dreams I once dreamt are become reality, for France to me was a reality farfetched.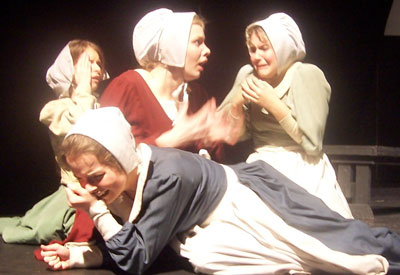 © Ashley O., Pearland, TX