Mass Commotion on a Square
January 7, 2011
In all reality it is just a square - two streets intersecting to form the most chaotic block on earth, but when I stand on the famous glowing red steps, elevated above Times Square on Broadway and Seventh, I cannot help but take a deep breath. All I want is a few minutes to check my pulse to determine if this massive energy filled square is reality. At 12:00 A.M. the lights are still flashing, people are still walking, and taxis are still driving; it is no wonder they call it the "City That Never Sleeps." The sights, sounds, and smells create a stimulus overload that is truly astonishing and simultaneously perplexing.
Under me, over me, behind me, in front of me, I feel the millions of radiant illuminating lights penetrating through me. The massive neon movie marquees glisten like the rising sun that sparkles off freshly fallen snow. Quite blinding, no doubt! Every time I glance up, flashing lights charge through me, but my eyes refuse to close. Millions of multi-colored LED lights are systematically and strategically placed in order to create building-size advertisements that sometimes market one product or event. Is bigger and brighter necessarily better? Will Nike sell more shoes than Reebok because their luminous advertisement extends the entire side of the skyscraper?
Perhaps it is the moving marquees that most effectively capture my attention amidst the mass commotion. Everywhere I gaze I am in awe but cannot seem to place whether it is an "amazing awe" or an "utterly confused awe." As I glimpse more closely at the blinding marquees, dozens advertise the vast array of Broadway plays. I ponder if tonight is a night for Lion King, Wicked, Jersey Boys, Phantom of the Opera, Mary Poppins, or perhaps In the Heights? How can one possibly choose? Every hour or so, mobs of people crowd out like bees swarming out of a beehive from different theaters. Their faces are filled with excitement as they enthusiastically jabber amongst their friends. It is the millions of flickering lights they automatically peer into as they make their next decision of where to go among all the nightly chaos.
Aromas that fill the air are proof enough that there is no shortage of food in New York City. The sweet smells permeate from the variety of bagel shops, bakeries, and vendors that line the streets. As I munch on my New York style pepperoni pizza topped with the finest cheeses, I get a whiff of the fresh savory smell of bagels coming out of the ovens. The sweet scent of pastries being sold to hundreds of people is almost unbearable. Lines of people form from every street vendor offering steaming hot dogs, crunchy churros, and sizzling seasoned meat kabobs. There is ample food representing every nation for every taste.
As I close my eyes and rest my head on my knees, I cannot help but hear the family next to me communicating in their British accents. Foreign languages and accents surround me as I sit at the crossroads of the world. Foreign tourists with cameras like leis around their necks, point and squawk at the bright LED infused billboards above them. I cannot help but wonder if the foreign tourists think all Americans live in such a fast paced world.
Honk…Beep…Honk…Beep! Beep! Beep! It is this repetition that seems endless. It appears that the general rule is for every single taxi on the road to honk at least five times before they reach the next intersection. The continuous horns generate one intense enduring honk that soon becomes an instrument in the symphony of sounds. It is amazing that with all the hustle and bustle I can still hear the horns of the taxis. Is this perhaps a signal of impatience? Is it impatience that adds to the chaos? As one ear listens to the traffic, my other ear picks up on the strong bass penetrating from the blaring speakers pouring out of the store fronts. How can I possibly focus on one song? As I sit here, I can feel the city shimmy and shake to the beat vibrating from the different building-size TV screens. It is all just so mind-boggling.
As I sit on these glowing red steps, everything I glance at is eye candy until I glimpse to my left. Out of the corner of my eye, I spot the famous naked cowboy of Times Square! I rub my eyes to make sure my vision is clear. Sure enough, there he stands strumming his guitar and belting his heart out for all of New York to see and hear. It is amazing how standing on a street corner wearing only white underwear, boots, a cowboy hat, and a guitar can get you so famous - only on the streets of New York City! I cannot quite seem to grasp it. Is there a purpose to all this crazy commotion?
This crazy commotion starts to dissipate as I peer south into the dark beautiful skyline and my eyes meet the greatest skyscraper in America. Observing the colossal white lights probing up into the energy filled sky around this imperial building is a sight to be seen. Perhaps it is the symbolism of power which this structure represents that brings contentment while sitting amongst such a disordered environment.
As my eyes leave the distant skyline, they begin to focus on the big frenzied mess of hot sticky people busily scattering the streets on this humid evening. Here I sit at one of the most hectic intersections on the planet where movement never ceases. It seems like the only place to just stop and soak up my surroundings is on these glowing red steps - a resting place for a walking city. Not for one second does this chaotic square rest. It truly is the "City That Never Sleeps." It is quite simply a disordered madhouse. Yet, it is a madhouse that for some unexplainable reason, I, as well as millions of others, will continue to return to time and time again.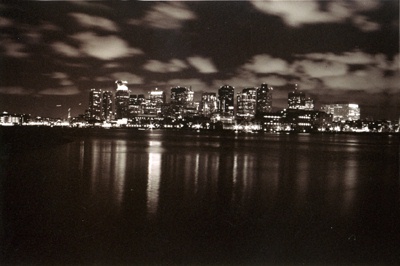 © Hoang P., Rochester, NY