Conch
November 29, 2010
A conch is a sea snail that one can find in the Caribbean Sea. The first time I ate a conch was on the beach of Little Caymans. The island is three miles wide by seven miles long. The first day I was there, my family got on the boat and sailed out to the reef. Each boat was allowed to bring in 12 conches per day. Once we arrived at the reef, my brothers and I put on all our scuba gear. I was the first one ready, so I jumped right in the warm, blue water. As I dove farther down, I started to look around at the reef. It was every color I could imagine with different fish, sting rays, and even crabs. After looking around, I went straight to the bottom, found the biggest conch shell I could and took it back to the boat. I dove back and forth four times bringing back a conch each time. My brothers got the rest of the conches, and once we had all 12 snails, we headed back for shore.
Once back on the tiny island, we pulled out all the conch shells and set them on the beach. My dad used a knife to cut open the shells, while I put all the snails into a bucket. They looked all slimy and pink, like what a stomach would look like if one could see it. Once all 12 snails were shelled I took them to the cook and asked if she would cook them for us. She said, "Ya don't need to cook'em." So I watched while she cleaned out all the guts and chopped what remained into little pieces. When she was cleaning out the guts, it looked just like the elk my family hunted. I helped her put them in a bowl and she poured pik-a-pepper all over them, gave me a bag of chips and said, "Enjoy."
I took them back to the beach and sat with my brothers. The conch tasted good, like crab with salt and soy sauce all mixed together. We finished as the sun dipped below the horizon, turning the ocean a light purple and the sky a radiant pink. For the rest of my trip I had conch at sundown. Now, I have conch every time I have the chance.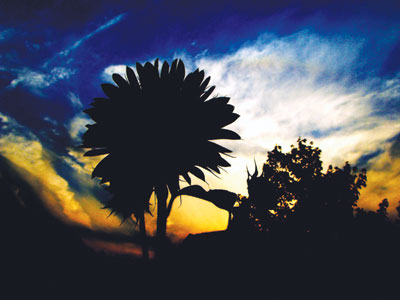 © Brian M., Fishers, IN