Temporarily Italiano
October 3, 2010
It was an early St. Patrick's Day morning and very few people were actually wearing green or flocking to pubs, dancing to an Irish jig. I am sitting in a train, riding backwards with my friends. We are all laughing excessively due to a lack of sleep, holding on to the slight jolt of adrenaline for our next destination. As the train plunges through its lifeless gray warren, vivid and vibrant fragments of what is to come crescendo through its apertures. Just as we begin to settle into our seats and adjust to the lulling and yet unnerving rhythm of a locomotive, the train stops. The doors open with a vacuum effect of refreshing air breaking another layer of fatigue. We are in Monterosso, one of the "five earths" of Cinque Terre, Italy, on the Mediterranean coast.

The beach is a foreign tapestry of gray pebbles instead of the sugar white sands I am accustomed to. The cerulean water lives, breaching the contrasting barrier of stolid rocks. We walk past buildings coated with ballet slipper pink, the green of pistachio ice cream, and the orange and pink perfectly encompassed in one grapefruit; we are taken back to the days of our comforting and audaciously colored dollhouses. Mosaics naturally embed the streets, and just as they begin to seem monotonous, one catches our eyes: a compass. A compass almost exactly like the pendant poised on our English teacher's neck, like a motif in a work of literature pointing us towards the overall purpose of our story. We are on a journey, as a compass's arrows seem to stretch limitlessly, our freedom to explore and observe where we are is limitless.

Things became so positively not American: markets displaying food so enticing and valuable in a chef's eyes, yet made so accessible to steal, a row of boats facing the ocean seeming unused, but ready to set out on a new journey, cats sitting on those very same boats seeming uncared for, but patiently waiting for their masters to join them, and a kiss on each cheek by a kind, old denizen proudly proclaiming, "Not Americano, not Canadian, ITALIANO!" This was our group's initiation into the country of masterpieces, the country of Davinci, Michelangelo, Dante, Puccini, Vivaldi, of so many. We were in some strange way by this man, undeservedly and temporarily linked with these masters, and ironically it was the last day our eyes, our very being would experience our impermanent home Italia.

So we let our hands be baptized by the living water and took the stolid stones that would become relics of our time there when we were long gone. We danced on the shore like no one was watching, traveled by the trails weaving through beautiful, treacherous cliffs, and dared to look fearlessly down into the depths of the sea holding and gradually shaping the rocks we stood on, prepared to take a lover's leap. We confidently ordered pizza in the native tongue like true Italiani and let the salty sea air bring forth its true flavor.

In those last moments of our time in Italy, we became what we never thought we were with the kind, old man's proclamation: Italiano. Our day as temporary citizens of Italy will slowly transform into a blissful, unbelievable dream. Even so, my friends and I will always have the Italiano in us, on the tapestry of gray pebbles dancing like no one is watching, looking out towards the living water.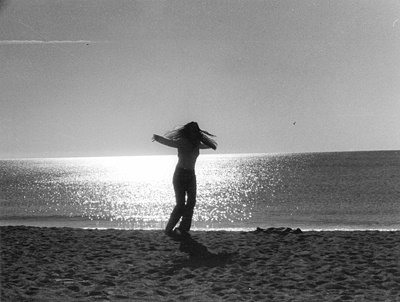 © Denise A., Marblehead, MA