Hallowed Grounds
October 1, 2010
Every culture has a high-esteemed institution, which is given a respectable amount of power in an esteemed position. For the ancients, this place was the theatre, and for the pilgrims it was the church. Today, that place is the coffee shop. There are over 108 million coffee drinkers in the U.S., most of which are patrons of one of Starbucks' eight thousand establishments. However, many of them don't realize the true role of the coffee shop in their own society.

Without a doubt, the most powerful of these coffee chains is Starbucks, which dominates the new black gold asthe UAE dominates oil. The second most popular brewery is Caribou Coffee, which claims its place beneath Starbucks with seven thousand less stores than the monopolizing mermaid. With her high-priced Italian-named cups of java she rakes in 156 million dollars per year. So, knowing that Starbucks is majorly benefited by Americans, how does it benefit us?

Firstly, Starbucks functions as either a moral thermometer or compass. Their brews have high prices because they are "fair trade", a certification which ensures that every person involved in that cup of coffee, from the barista to the planter, gets their fair share. Also, Starbucks encourages such activities as recycling and is an RA (Rainforest Alliance) certified establishment. Whether the caring coffee house does this because people think its fashionable, or these thing are fashionable because Starbucks does them, is hard to tell. Either way, the effect is undeniable. Bright-eyed intellectuals, Green Peace advocates, and dirty hippies alike all seem to stand as constant sentries to the comfiest chairs of every Starbucks across the nation.

In addition to this, Starbucks, and coffee itself, holds an inexplicable position in our culture. When seeking a casual get together, a person will often invite another "just for a cup of coffee"; whether that person our C.E.O. or that cute blonde from class. We get coffee to gear up for work, or to wind down after dinner. No matter how you stir it, coffee is the designated social drink of the U.S.

Coffee has become deeply integrated into our culture, and with as many different brews and blends of the drink as there are types and trends of people, each of us has our place in our neighborhood watering hole of java. Personally I look for the same qualities in coffee as in women; blonde and sweet.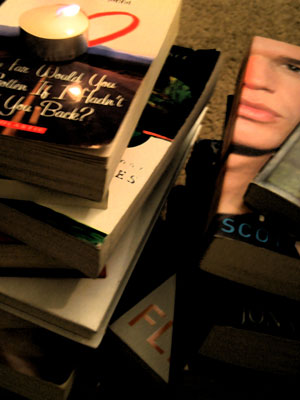 © Alexis R., Clarkdale, AZ