Last Day in the Boundary Waters
September 26, 2010
Thursday, September 23rd, 2010

Today the weather was kind-of crappy. It was sprinkling and drizzling the painful rain most of the morning. Last night I slept the best that I had ever slept the whole week, and I really didn't want to get up. Finally I managed to get out of my sleeping-bag and slip out of the tent as soundlessly as possible.

Nobody was really out of their tents at the time, so I made the fire by myself. It took a few matches because I couldn't get anything to light, especially since somebody keeps all of the newspapers in their coat.

For breakfast we ate whatever we could fin, which was muffins. We managed not to burn the bottoms, which was quite a feat in itself. After conversing amongst ourselves, we decided we wanted to stay another day, thanks to Beth's final decision. We then walkie-talkied the pansies across the lake and asked what they had decided. We could hear them from across the lake as they sobbed about wanting to return home. And, because they were such wusses we had no choice but to pack up.

After breakfast we started the ordeal of packing up all of our wet gear back into our wet packs, which we then put into the wet canoes. I was trying to help out, but Anthony spilled coffee all over my mom's coat and now it won't come out and she demands that he buy her a new one.

The pansies were even slower at packing than we were! They had hardly started when we had started canoeing, so we decided there was no point in hurrying. We just moseyed along to the first portage, stopping countless times to figure out where the heck we were. We never got lost, though, only temporarily and momentarily misplaced.

By the time we had reached the first portage, the sissies were not far behind. After the second portage we canoed like there was no tomorrow. We were probably cruising close to about 500mph, and soon we had lost the rest of our fearless group, leaving them to fend for themselves.

We paddles and paddled until we were sure the lodge was right around the corner. At that point we slowed down and then came to a dead stop. It was no there, there was nothing there but trees, water, and sky. We had missed our turn and canoed into a large bay. We turned around and started back. We saw Mark trying to signal us, and then we knew that we would be ridiculed for the rest of our lives. Still, that didn't stop us from paddling as hard as humanly possible.

We passed many others in our attempts to reach the lodge, but we had still arrived too late.

As we were getting ready to leave, Anthony had brought the girls' leftover food into the lodge. As soon as they smelled the goodness of our nicely-sliced summer-sausage, the boys began hovering over it like gnats. We denied them because it was our food.

The ride back was very quiet in our van, surprisingly. We stopped to get gas and food, and Anthony told Beth and me about how he was bragging about us. Then Mark bought us some ice-cream, trying to get on our good side after the food incident.

On the ride back I saw license plates from South Dakota, Iowa, Wisconsin, Washington, Texas, Montana, North Dakota, Ontario, Michigan, California, and many other places, in addition to Minnesota.

I called Anthony to let him know that, and he said they were talking about girls in his truck again. They talked about girls way more than we talked about boys, which is kind of sad. This was about six hours after he told us he was talking about us at the gas station.

We had an interesting time unpacking, especially with the parents hovering over us. It was then and there I decided I wasn't ready to come back into civilization. I told Nancy I should set up a tent and rock back and forth in the fetal position inside of it.

This entry does not have a very good ending, and I would write more about what I thought of the trip, except then I'd have to write the same thing in my reflection. Also, my hands hurt from typing.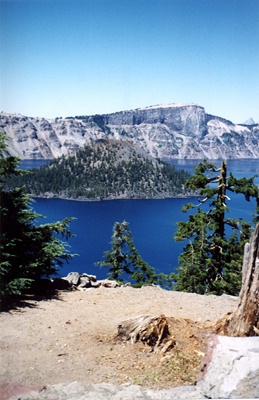 © Kristy H., Willow City, ND