From Above in a Plane
September 14, 2010
I stepped onto the airplane in a hurry, giving the lady standing at the gate my ticket, she gave it a stamp with a smile, and I went into the jet way.

I got into the 747 that had been waiting for me. I found my seat in couch, and put my seat belt on, right before looking out the window thinking about the ride to Nome, Alaska. I thought it would fun, but long. It was going to be about eleven hours.

Gosh, flying from Nova Scotia to Nome, Alaska isn't fun. The thought suddenly left my head. I tried to think about good things until my thought process was interrupted by the Captain's voice.

"Good morning everyone, it is now ten o'clock on this beautiful Saturday morning. I hope you are ready to fly because we will be flying non-stop to Nome, Alaska. The trip will take about eleven hours, and we will be flying today at around thirty thousand feet. Enjoy your flight and thank you for choosing American Airlines."

The plane began pulling out from the terminal. I was now able to see the runway in front of me.

We took off, and soared up into the sky, leaving the ground, the people and the buildings it contains, left behind.

That was when I fell asleep.



When I woke, I looked out the window, I could see dark clouds, and could hear a noise, thunder!

I suddenly saw a flash of lightening it was so beautiful! I would have to get used to watching lightening from above instead of below!

FLASH!

BOOM!

We began to descend, where Nome, Alaska was waiting for us. Boy, wait to I tell my friends at school I went literally through a lighting storm!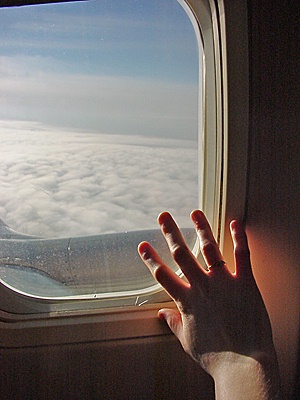 © Greg K., New Lenox, IL