Traverse City
August 17, 2010
White waves crash against the sand.
Tranquility reveals itself on summer nights on the beach, surrounded by cousins and siblings, with our white beach chairs all the way back. Resting our head on pillows stolen from our hotel room.
Searching for shooting stars, staring at constellations, and smelling the fresh water of the lake. These are my typical summer nights on my three day vacation to Traverse city.
The first day of my vacation this year consisted of me, waking up at about 6:45 in the morning, with no sleep to back me up because I was too overwhelmed with excitement the night before.
I trudged up the stairs to take my puppy, Comet, Outside to use the bathroom, still in my pajamas.
Minutes later Comet pees and I see my Brother, Zac, in the window.
I run inside and announce I'm getting dressed. Clearly unprepared, since i was told My brother and his Girlfriend, Andrea, were arriving at my house at seven. I run downstairs and change into my favorite sundress, one that my Grandma got me for my birthday, along with a black plaid purse and orange beaded necklace.
I grab all of the things I packed-An entire backpack and towel, along with a tote bag of my electronics, a must have- and set them on the chair. I go back down to my room to find that Comet left me a present.
I swiftly pick it up before anybody could notice, I didn't need lecturing from my father.
After a chat with my Zac and Andrea, me and my brother go outside to play soccer with Comet.
After my dad was finally packed, I got in my dad's car, my Zac and Andrea went in Zac's. We started off on our drive.
Miles later, we stopped for breakfast at a nice breakfast at McDonald's. Nothing better than a sausage McGriddle. The only catch? The restaurant was filled with old people.
After that we hopped back in our cars and were on our way.
Two hours later, We reached our destination. Soaring Eagle Casino and Resort, Mt. Pleasant, Michigan.
Unfortunately, our room wasn't ready. It was only Noon.
To pass the time, Zac and My Father went golfing, and me and Andrea were stuck finding something to do, which consisted of sitting in the hotel lobby for about 20 minutes, going to Wal-Mart, And Going to see Despicable Me.
Funny story. On our way to see Despicable me, Andrea's gps screwed up, and we ended up at a reptile store instead of the cinema. But we found it.
The rest of my day consisted of me going bankrupt at the arcade(so addicting!),chilling in the hotel room, and getting lectured by my brother to do something.
Also we joked around a lot about "Mountain Dew on the Rocks". I thought Rocks were a term for hard liquor. Yeah.
The next day we were on our way to Traverse city.
Me and my Dad got a little Lost on the way, I'm an awful Navigator, but we found our Hotel, The Bayshore Resort, in the end.
When we got there i hung out with my cousins for a bit, then we all went on a road trip, kinda... I road with my dad and 15 year old cousin, Abby.
First we went to A winery built in an old school house. Not much to say about that.
After we stopped at one of the many road side cherry stands, I was as confused as ever, and no one felt like explaining anything to me, so me and my dad didn't get any.
Afterwards we were on our way to the lighthouse on the tip of the peninsula. We went and walked on the sand, which at first felt like you were in elephant poop, then moved to a heavy sand bar where no matter how far you were, you could still stand. After that exciting adventure, we were on our way back to the hotel, eating cherries we got from my Uncle and spitting the pits out the window trying to hit people and objects.
Me Abby got back before my other cousins, so we spent the rest of the day building a sand castle with the cousins of ours in their twenties. It felt good considering I'm 13.
The sand castle was an amazing piece. Complete with 2 towers, A wall, A mote, a bridge Zac wouldn't shut up about, and my trademark? I giant fire pit.
We were all starving, so then we ordered Luigi's pizza. We ate it enthusiastically as I ate my chicken alfredo pizza (No green peppers!), and pepperoni pizza.
After dinner, we went swimming in the lake, and the pool.
Then we were exhausted, so we slept.
The next morning we went down for our delicious complimentary breakfast, which always got me excited.
After our trademark breakfast, we changed into our swimsuits and got ready for our boat ride.
Now that's a story of it's own.
We had to climb through the water to get on the deck boat. It took us a while to get situated. When we finally took off the sky was a dull gray and the waters were a dark navy.
My and my cousins went tubing. It was rough buddy, I may never tube again. After a couple others tubed, It started to rain. So to get to shore, we cranked the speed all the way up, and we were going to fast, it felt like hail was pelting our faces.
We finally got back to shore and stayed there until the rain stopped, then we were on our way to power island.
Power Island is an Island not to far away from our hotel, we go there every year to have lunch on the beach. Complete with rope swing, trails, a water pump, and the grossest bathroom you will ever see.
On our way there, people knee boarded and tubed in the nice, choppy waters. Zac also water skied.
Once we got to power island, we all had lunch, hot dogs and cherries.
After lunch, a photo shoot with Abby, And rock collecting with my Nine-almost ten- year old cousin Madalyn, all the kids and young adults hopped aboard the deck boat to pick up my cousin Monica on the beach.
Once we got to shore, Monica came on, and Zac got off, too exhausted from water skiing.
We got to power island, once more, and asked the three family members still on the beach if they were ok there, they said yes, and we went tubing and knee boarding again.
After it was all said and done, we picked up the adults, packed up our stuff, and returned the boat.
Which included a lot of stress I might add.
I won't get into it, to much for me to relive.
But when the stress was over, we all got ready for dinner.
Knowing me, I didn't pack anything nice, and felt like an outsider.
I was dressed OK I guess, and orange tank top and plaid black and white skirt.
My hair was disastrous though.
Me and Abby got in a big argument on the way to the Red Mesa Grill because she wouldn't letme or Madalyn talk, um your riding in MY dad's car, I'm allowed to talk.
Who did she think she was anyway? She was the only one that treated me like a little kid, and that's only when I wanted to do something, when she wanted to tell m a secret, I was perfect. None of my other cousins treated me like she does, anytime me or Madalyn said something, she would tell us to shut up, literally every time. She was only three years older than me! Seriously? I got mad and everyone just decided to tell me to calm down or "don't get touchy", except Madalyn, which is one of the reasons I love her.
So to get back, every time someone spoke to me when Abby was around, I said, "Sorry, I'm forbidden to speak."
I got confused looks, but no one cared.
Anyway, dinner was delicious, and afterward, Zac, Andrea, Abby, Madalyn, and I went back to the hotel while the others went to the casino.
First we went swimming, in the pool, then we went outside to enjoy a classic summer night.
After, we went to sleep and awoke the next morning ready for breakfast.
We all had breakfast and Abby and I hung out on the beach, me constantly pestering her to get in the water, then I went up to our room to hang out with Madalyn and attempt to build a sand castle with her, which failed, so we went swimming.
After swimming, everyone but me went jet skiing, I didn't go because I was terrified of jet skies.
Madalyn was back on shore fifteen minutes later, and we hung out on the beach drinking fuse and vitamin water until Andrea finished, t hen we went and hung out with her.
But it's impossible to relax on a beach without being chorused by Madalyn's constant cries of "I'm bored! You guys are boring! Let's DO something!" finally I went swimming in the lake with her, until everybody was off the jet ski, then we all went to the pool.
After swimming we all got ready for a dinner at Boone's, unless you went golfing. I took a shower and changed into a sweater and jean skirt. I was awfully sun burnt and my hair was a disaster.
I didn't bring anything dressy so I looked awful.
At Boone's, I got the eight ounce prime rib, when it arrived, I thought I was supposed to put A1 on it, I've never had it before. I almost did put A1 on until my cousin yelled at me, then I stopped.
After dinner, Abby babysat me and Madalyn, we watched the sunset, went to the pool, and spent our last night staring at the sky. It was almost too beautiful to believe.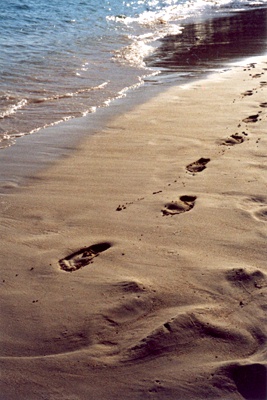 © Ashley B., Potomac, MD