Ruins
August 14, 2010
I felt ridiculous sitting in our coach bus. I felt the stares of the native people through the tinted windows. I saw the scenery, and I could not believe it.
Mexico was my first eye-awakening journey. Yes, I have been many places before, but Mexico, it gave me a sense of reality. The harsh reality that effects most of our world, leaving out our protected suburban neighborhood back home.
We were passing through the Mayan cities in the Yucatan area on our way to Chichenizta, the ancient Mayan ruins that this territory is famous for. I had been in this position before. Sitting on a tour bus, listening to the tour guide Miguel, and watching the surrounding area. But instead of seeing beautiful scenery I saw nothing more than what could only be described as "ruins". The Mayan town fit the description of the commercials begging for money. The lonely faces sitting outside their empty stores. Their bodies wrinkled, not from age, but form worry and hard work. Young children either sat next to their mothers or ran through the streets aimlessly. Dogs with three legs hobbled along, one pig kept in a rusted fence squealed.
What was displayed there was the outcome of pure poverty. These people spent their days praying that a tour bus like our will stop and the Americans will flow through the streets and purchase all their goods. When walking through the city the salesmen will surround you, not quite begging, but desperately asking for you to look at their collection of Mexican gifts. Whether they are stereotypical sombrero hats or custom made jewelry, it all worked the same way. Why is it that our human race lets this happen? Why is it that these Mayan people seem to be invisible to the rest of the world? Why is it that tequila is the answer for most instead of education?
Walking through the crowded thrift shops did not overwhelm me as much as that bus ride though. On the way back to our five-star hotel I watched the grasslands roll by. Every now and then I could spot a little hut mixed in with the trees. These huts were made of sticks, literally just sticks. At first I forced myself to believe that they were unused, a past life for the Mexicans. But as the bull carried on I began to spot one or two people working in the fields. They worked with tools that seemed ancient to my American mind. I could not understand, how is this allowed? I asked the man next to me, "do you see those huts? Do people actually live in those?"
He replies, "I believe they do."
"That's awful."
"Yeah, not a luxurious life." He said this and turned his iPod back on, as if none of this affected him, none of this mattered. I believe that is the stem of the true problem, people refuse to care. People are afraid to care, afraid to take a stand.
I sat down on my bed in the hotel, overlooking the hot tub in our room. Nothing seemed more ridiculous than the life I led at that moment.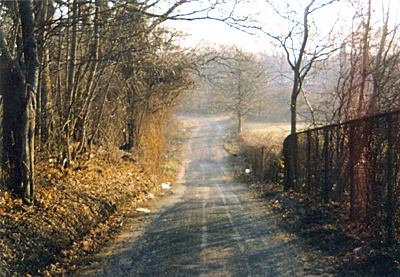 © Cameron C., Milford, CT