Guide to YOUR Post-Senior Year Summer
August 15, 2010
For many, this beloved summer is the ultimate vacation: no summer reading, college applications or SAT prep to loom over our mind. Seniors are enjoying their success in completing high school and anticipation of having a new school in fall. I advise the following activities to you, my fellow seniors-going on college freshman. Make use of your free time now and you may find yourself much rewarded in the future. After all, there is a limit to how many TV channels and movies we can flicker through before our pants start to meld into the family couch.

1)
Get a job
If you are the one who wants independence, this option is for you. Whether through a minimum wage job or family business, having a summer job or part time throughout the year can be excellent investment for the future. Finding your first job is never easy. Yet it is necessary to get the experience: whether flipping burgers or handling office work, the responsibility involved in showing up on time (when it actually matters) and dealing with people you may or may not like (grumpy customers) is a lifelong skill. Students who put off finding a job may have trouble applying for scholarships that require work experience or finding a career, when they lack previous working experience.
2)
Research
If you have the dedication, I recommend finding a research position, perhaps in your future school. Not only will it prep you in navigating the campus, you will be the one waking up 5 minutes before class and arriving to class on time while your classmates are stumbling on the wrong side of campus with their map upside-down. Research gives you the opportunity to not only complete your resume but real world experience in the field of your choice. The opportunities range from almost every academic field but if you are in the sciences, this is an essential opportunity you do not want to miss. Why not try the subject you are choosing to study in the future? It will offer a chance to work in what could one day be your career. Applying when you are an incoming freshman gives you a chance to meet faculty—professors who may one day be your teacher and allows you a chance to have the experience instead of applying as a junior or senior when everybody will be fighting for that research position.
3)
Finish your to-do list
If there's a skill you have always wanted to learn or something you always scrawl last on your to-do list—now is the time to complete it. Have you always wanted to learn another language? Make yourself a new hat or scarf? Or maybe its something you have never done, like staying up to watch the sunrise or compose music. Whatever you choose, stick with it and you will find something to share with your college buddies in the fall.
4)
Explore the city
Whether your town is a social hub scene or the opposite, summer is a great time to find new events to enjoy. In your free time, find an art fair to attend, traverse the hiking trails and discover that the new shopping center you've heard of but never entered. It is a great way to meet other people with similar interests or just have great day with family and friends. If you have thoroughly combed through every city event, why not spend a day eating someplace new or trying food from other countries? You have had the same routine all year long, now's the time to try something new.

Remember to take advantage of your summer and make the most of it!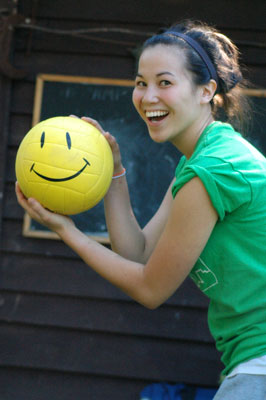 © Masaleen O., Palatine, IL