Boatloads of Fun
MAG
May 20, 2010
As I put my hand underneath the motion sensored dispenser, it was official. I was in hell. And hell smelled like hand sanitizer. Fortunately, my personal hell existed far away from anyone who could persecute me for it. Unfortunately, my hell was a cruise ship in Alaska, with my family and 800 people over the age of 65.

When I was little, I used to watch these concerts on the Disney Channel featuring the teen stars of the moment lip-syncing their songs on the beautiful bow of a Disney cruise liner. For the most part, they were glorified commercials, but I fell for them, hook, line, and sinker. I'd stand in front of the mirror with a hairbrush or toothbrush in hand, and sing "I Want It That Way," imagining myself singing along with the Backstreet Boys at the edge of a Mickey Mouse-shaped pool in the Caribbean. I harbored this dream for a long time, sighing every time a Carnival Cruise commercial came on, just loud enough so my parents would notice. But it seems my parents caught on a few years too late.

Christmas morning of sophomore year, as my brother and I were testing out the gadgets we'd just received, my parents announced that there was one more gift.

"We finally got a Wii?!" my brother yelled.

"No," Mom said, shooting him down quickly. "As you know, I will be turning 50 in May," she began, looking as though this present was going to be as big as a Giant Panda or something. "And your aunt has decided to give us all a gift." She paused, in a way usually reserved for surprises on reality TV.

"We're going to Alaska on a cruise!" my dad crowed, stealing her thunder.

"That's cool," I said, slightly underwhelmed. "I'm sure it'll be fun." In my Disney cruise fantasies, I never imagined going someplace cold. But I was still excited. What could go wrong?

Two words: stomach virus. In my experience, these are two of the most unholy words ever uttered. The trip began great. Before we boarded the ship, we spent a few days in Seward, a small town (a city by Alaska's standards) that was cute and had plenty to keep us busy. We touched glaciers, saw a moose, kayaked with sea otters, and slept in a house without heating that was about as big as my bedroom. Amenities aside, it was exhausting but fun. As we left to board the boat, I was looking foward to a long, hot shower. Little did I know I would be so clean by the end of the trip that it would feel like I had taken a 24/7 chemical shower.

As soon as we arrived at the dock, I knew something was up. It looked like a scene out of "Ghostbusters." People in white plastic suits with masks were checking everyone out and asking questions, while squirting copious amounts of Purell into their palms.

Apparently, the ship's last trip had been put on lockdown because 300 passengers had gotten the stomach flu. Nausea, fever, and joint pains – it was like swine flu before it became cool. And on this boat, the previous 1,000 passengers had been breathing the same stale air and sharing everything from forks to slot machines.

On the ship, everything looked pristine but smelled like rubbing alcohol. There were hand sanitizers every five feet. It was a clean freak's dream, but to me it was a nightmare. Everything was carefully monitored so that little human contact was necessary. At meals, you weren't allowed to get your food for yourself, but instead had to wait while four employees served you and 40 other guests. I saw one 80-year-old woman reach for a grapefruit, only to get her hand swatted away by a employee 50 years her junior. Even the pool, which I had assumed would be a highlight of the trip, was closed.

The cruise of my childhood dreams was dead on arrival. The first few days I spent mostly watching TV with my brother in our cabin (because, to make matters worse, there were five other teenagers onboard, all looking slightly unpleasant), which was the only place where they couldn't make me sanitize my hands all the time. However, after one too many episodes of "House," I knew things had to change.

I soon found out that the cruise ship, although sterile and filled with people who needed hearing aids, had lots to offer. We watched Broadway-style cabaret shows, whose cheesy costumes and even cheesier songs (there was a Barbra Streisand medley) made it totally worth it, played intense bingo, and saw the most beautiful sunsets in the world.

On the last day, I squirted hand sanitizer on my hands, appreciating the fact that I'd never be force to do so again. "Hey, look," my brother said, nudging me with his elbow. "I can see civilization from here." I looked out across the deck to see the skyline of Vancouver. I closed my eyes and inhaled the pollution. It was good to be home.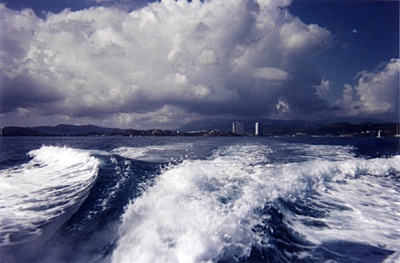 © Jenn T., Dover, NH