Shanghai: A world-class city that never sleeps
March 3, 2010
Since coming back to the States, I'm always asked the same question: "So, how was China?"

I never really know how to answer that. It's not that I don't have much to say. It's just hard to cram everything that I have experienced into the one-sentence reply that people expect, which explains why I usually reply with a short, "It was Chinese."

It's hard to describe Shanghai, a municipality of more than 18 million people, because it's so full of contrasts that I feel like I'm contradicting myself whenever I try to go into detail.

It's different from any other city in China, yet it is undeniably Chinese. It's a jungle of high-rise buildings, but there is still the occasional 19th–century European architecture left over from the days of foreign concessions.

Old men peddling coal-powered grills on the back of bikes sell sweet potatoes below gleaming office buildings. You can go from eating Western food at trendy restaurants overlooking the city to tasting Shanghainese delicacies at streetside stalls squished between KFCs.

In every sense, Shanghai is a city at the crossroads. The cultural capital of China is where old meets new and East meets West, all blending into a bustling, cosmopolitan city.

Before the school year started, I lived in an apartment at the city center on top of one of the largest malls in the city. There were shopping malls in every direction and all within walking distance. It was like living on the Champs-Élysées or Fifth Avenue. Needless to say, I went completely insane.

Much to my disappointment, I had to move to a more family-oriented neighborhood once school began.

I attended an international school located on the outskirts of the city. It was so far away that we could see ships coming in on the coast, and it was located at the center of an executive golfing community that had American-style houses and a sprawling golf court.

At school, most teachers were from North America or Oceania. All classes were taught in English, and Chinese was offered as a foreign language.

There were no serious cultural barriers, but I still felt like I had been dropped into a parallel universe. Most of the students had been expatriates their entire lives, which meant they were living in a country different from the one of their citizenship. Subsequently, there was a different social code I had to learn that everyone just seemed to know and adhered to.

Since I avoided the club scene, though clubbing was the weekend pastime for most foreign teenagers, I had to find other ways to entertain myself.

On the weekends, if I wasn't sitting outside a café and sipping espresso, then I was exploring the city. I was always looking for new restaurants, museums, and art galleries to spend an afternoon in.

One of the best qualities about Shanghai is its devotion to the arts. It's really a very culturally thriving city, and I'm glad I took advantage of that.

I also spent a lot of time searching for Lilong alleys to spend my afternoon wandering down. These narrow alleys are fading remnants of Old Shanghai, full of parked bikes, dangling laundry, and shabby windows. I once discovered a restaurant hidden at the end of an alley that was smaller than the Uni lounge. It had a kitchen the size of my closet, but the food was delicious.

The alleys are often crammed between streets of high-rise office buildings, but despite the difficulty in finding them, they contain some of the most fascinating shops. Thanks to all the time spent wandering around, I now know Shanghai, both geographically and culturally, better than any other place I have ever lived in.

I also traveled extensively throughout China during my stay. In Shanghai, I spoke English most of the time, and I ate Western food even more than I ate Chinese food.

My travels reminded me of the fact that I was living in China.

My major trips were to Guizhou, Hong Kong, Xi'An, and Luoyang. I also took day trips to cities close to Shanghai, such as Nanjing, Suzhou, and Hangzhou.

I spent a week in Guizhou province for a school trip where we followed a jam-packed schedule that combined sight-seeing with learning about the culture of the native people.

I watched ancient operas, appreciated the beautiful mountainous terrain, and stood inside the only waterfall in the world that can be viewed from the interior. We traveled to several different villages and learned about their specialties, such as mask carving, wax-cloth pictures, watercolor paintings, or embroidered designs.

The highlight of the trip, however, was spending two days in a remote Miao village. The Miao are an ethnic minority in China (known as the Hmong in Southeast Asia), and it was a huge deal that we were invited to stay in the chief's home. At night, we spent time with the villagers, who performed traditional dances and eventually convinced us to join in.

Guizhou was the best trip of the year, but Xi'An also comes pretty close on the list. Seeing the Terracotta Warriors was cool enough, but I also got the signature of the man who discovered them in the 1970s while working his farm. In Luoyang, I visited Shaolin Temple and spent a day absorbed in kung fu.

I'm glad I had fun on the vacation, because the return trip was anything but pleasant. It was the end of the Chinese New Year holiday, the busiest time of year, and China's huge population was working to our disadvantage.

Every airline was booked completely for the next week, so the train was our only option. But since we were booking tickets at the last minute, only standing tickets were left. I was traveling with my mom, my grandparents, and my brother. I was horrified; we couldn't possibly stand for a 16-hour trip! My mom said that as long as we managed to get on the train we would be able to find an opening in the compartments.

After squishing through a jam-packed train and negotiating with the train conductors for hours, we managed to get two cots to at least get us through the night. Despite the nightmarish train ride, I got back to Shanghai in one piece.

In my mind, Shanghai is a blur of bright lights, towering skyscrapers, old alleys, Parisian-style cafés, and, of course, shopping malls. As a city, I both love it and hate it.

Its elitist vibe and obsession with trends make Shanghai a notoriously materialistic and superficial city. However, its energy and shameless pursuit of modernity will always fascinate me. These prominent few of the many facets that define Shanghai give the city both its edge and my respect.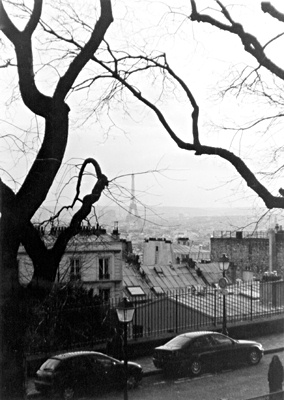 © Lena K., Marblehead, MA