Costa Rica Host-Family
January 31, 2010
As the gates covered in barbed wire opened with a loud creak, I remember thinking that this was not what I had signed up for. I had a short sense of panic when I realized the bus was pulling away from the house to drop each student into his or her own state of isolation. Thankfully, Aditi's host family included the mother of my host mother, allowing our two houses to be merely a couple hundred feet away. Hastily putting on a smile, I picked up my suitcase and walked towards the woman and two dogs that were coming to greet me. I attempted to gather every word of the Spanish language that I had accumulated in my seven years of preparation, something that did not subdue the overwhelming sensation of fear that rushed through my mind.

Traveling to Costa Rica with a group of Webb students my junior year was no doubt the best opportunity I've ever taken advantage of. I had assumed that being placed with a host family consisting of complete strangers would be a challenge in itself, and that they would be able to provide some assistance with my comprehension of the Spanish language. Much to my surprise and dismay, my host family neither knew nor understood one word of English. While this was extremely frustrating and stressful at the time, in the long run it proved to be beneficial, because it pushed me out of my comfort zone and forced me to find ways to communicate.
Due to the combination of an M&M alarm clock, my lack of knowledge of time zones, and miscommunication on the time at which I needed to leave the house each morning, my host mom was under the false impression that I was a morning person. The first morning, not wanting to miss out on anything, I was ready a full three hours before I needed to leave the house. Honestly my plan had been to wake up about an hour and a half before I was supposed to leave, but unfortunately the watch I had brought wasn't even the correct time for Tennessee, much less the correct time for San José, Costa Rica. To top it all off, I forgot to bring my cell phone charger, so I had basically no sense of time for the majority of the trip. My enthusiasm about mornings paid off, however, and I was able to spend time each morning with my host mom. Over a breakfast of frijoles, platanos, rice, and coffee, we would discuss, in Spanish of course, the differences and similarities between our families. This brief period of my day is something that I yearn for now that I am no longer there. As my host mom would explain her husband's job as a tour bus driver and how it would keep him away from his family often for weeks at a time, I was reminded of my own dad's job, which requires a substantial amount of traveling and time away from family as well.

Attending the Costa Rican Language Academy furthered my journey out of my comfort zone, as I was placed in a class with one other Webb student, two men from New York, and one man from California. I described my classmates to my mom in an email, and she was later surprised to find out that the men were not in their early to mid-twenties as she had assumed. Rather, the oldest classmate was approaching seventy years old, and was in his third week at the Language Academy. The other two men were younger, but in their late twenties to mid thirties. Because we were with adults, the atmosphere of the classroom was a lot different from the one I was accustomed to back in my high school. Our teacher was able to move through material quickly, since everyone in the classroom was focused the majority of the time. It proved to be a boost to my self-esteem whenever I mastered a concept quicker than one of my fellow classmates.

While the majority of our time was spent at either the Costa Rican Language Academy or at our homes interacting with our host families, we were also able to experience things with each other as a group of students. For example, one day we rode on a boat down a river through San José's beautiful scenery. While the wild horses and exotic birds were exciting, the highlight of the tour was the crocodiles. Instead of just passing by the crocodiles, however, our tour guide proceeded to get out of the boat with a raw dead bird, and held it over a crocodile's head. There was so much going on that it was hard to determine what was scariest: the boat's being merely two feet away from the large creature, the crocodile's enormous size, or the fact that our guide had his hand barely a foot over the creature's sharp teeth. Thankfully the crocodile was only interested in the raw meat, and our guide made it back in the boat in one piece.
Another night, Mrs. Mitchell took us to a Jazz Club. Even though Stephanie was unable to come because she already had plans with her host family, we still had a great time. The musicians' costumes, the beat of the music, and the energy of the people there had everyone saying "Quiero bailar." Being able to hang out with only students from Webb provided a chance for us to share stories about our host families, and a break from the Spanish language.
The currency, language, city, weather, and people were all things that my Webb classmates and I had to adapt to while staying in San José, Costa Rica. After my host mom took me to the Language Academy the first morning, I was expected to remember the bus route and short walking distance in order to get there the following morning. The fact that I had to navigate around a foreign city was quite daunting to me, especially when it was stacked onto my complete lack of direction in my own hometown. With the help of my friends and my host mom, however, I was able to make it through the week without getting lost even once.

For the majority of the plane ride to Costa Rica I was in a fervent panic, yet the entirety of the trip home was spent plotting to turn the plane around. From learning how to make bracelets with my host sisters to visiting a natural hot springs with classmates, my cultural immersion experience is not one I'll be forgetting any time soon. Thanks to my weeklong stay in Costa Rica, I was able to experience life outside of my comfort zone, which caused me to become more extroverted as well as more excited to deal with change and new opportunities.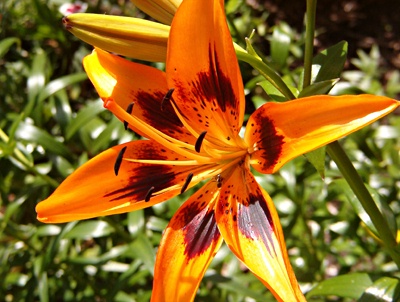 © Terrin C., Humboldt, IA