Last Day
MAG
Even though my vision was dimmed by my sunglasses, I could still seethe beach and the ocean. I lay in a beach chair, motionless, with a summer reading book buried inthe sand and a can of soda in my cup holder. It was late August, and I was on Cape Cod. I was oneof the millions who had come to the Cape this summer, yet summer was almost over, and so was myvacation. "We go back tomorrow," I said.

"Don't remind me,"Mike replied, getting up and taking off his sunglasses. His face was tanned from too many days likethis during the past two weeks. His long black hair was messily ar-ranged on his head by the windas he walked, the sand filling his sandals and kicking up against his bare knees.

I slowlygot up and stretched as I watched him walk. I walked against the wind as it blew my long hair,bleached by the sun. I looked around at the line of beachfront motels that stretched for milesalong Route 6A. As I followed him, I looked to my right to Provincetown and the harbor. It was deadduring the day but vibrantly alive at night; I looked forward to that.

I tried to avoid thedried-up seaweed as I got closer to the water. Mike was standing at the edge, skipping stones. Istood 15 feet behind him, looking at the dark ocean. He was holding The Catcher in the Rye. Hethrew it into the ocean where it fell with a plopping sound. He kicked the sand and yelled anexpletive. A few mothers with toddlers stared at us. Mike turned to look at me.

"Howdoes it end?" he took me by surprise. "How does it end? I gotta write a report on itwhen I get back."

"With Holden watching his sister ride a carousel in therain," I said, matter-of-factly. He was unsure of my answer. I knew he was onlyhalfway through the book. My response could have been sarcastic, but that really is how the bookends.

"That doesn't make any sense."

"You have to readit," I said, before realizing the stupidity of my reply.

"It's kinda latefor that." A long silence followed and we started to walk back. The brightest psychologicalminds in the world could not have understood Mike's actions or our conversation. The samethoughts that were beating repeatedly in my head were also beating in his. We had to go back. Ipicked up my book and chair. The sand soon met grass, and we walked between a row of cottages.Ahead of us, through the parking lot, we could see cars passing by and past that, the magnificentdunes of the Outer Cape. I knew I would miss that sight.

I passed the slow afternoon packingand reading; commercials for school supplies on TV didn't help the process. I put mysunglasses in their case, and in my backpack. They had served their purpose, just like thevacation. Cape Cod had been everything it needed to be: beaches, good seafood, mini golf, scenicbike rides, ice cream, nights in Provincetown and lazy days in the cottage. Two weeks were enough.This last-day ritual was completely expected, yet I felt surprised by the feeling, almostshocked.

I dressed warmer for the cool night when it would drop to 60()() and we would complainabout how cold it felt. I exited my cottage and met Mike halfway between our cottages. I gave himmy copy of The Catcher in the Rye. We could have laughed at this exchange, we should have, but wedidn't. There was, somehow, nothing funny about it.

We sat and watched the sunset. Itwas ablaze with strong oranges, purples and yellows. They were colors burning so bright in the sky,as if they would descend on us and burn everything in existence. The sun fell beneath the sand anddarkness ensued.

Provincetown was alive. And we needed it to be alive. On the tip of theCape, it curved all the way into the ocean. It was small, with one street filled with restaurants,art galleries and little shops. At night the streets were so full that cars could barely

drive through. Tall transvestites drove by on scooters yelling at everyone to come watchtheir late-night bar shows. Outside every restaurant, people were waiting for a table so they couldeat lobster, clam chowder and flounder. This was how we knew this town, and this was how it wastonight.

We walked slowly down Commercial Street, relishing these last few moments. Westopped at our favorite stores and looked again at all the odd things they had to offer. TheArmy/Navy store had its usual assortment of cheap clothes, pocket knives and dried-up starfish. Wetried on all the berets. We stopped in the candy store and watched the old-fashioned taffy-makingmachine, then filled our bags with sweets for the ride home.

We eventually made our way tothe harbor and walked along the pier to look out on the beach where we had passed our days. It wasempty, and though we could barely see the water, we could hear the small waves washashore.

"Well, that's it." Mike's statement would have been abruptand vague to anyone else, at any other time, yet it was extremely clear to me. His words seemed toend the whole summer. Three words nailing the coffin on two months.

All I could say was,"We better go back."

The morning sun burned my eyes as I gazed at the beach.Everyone else was asleep at seven except us. While my dad struggled with the bike rack, I met Mikeand we went down to the beach. The walk was quiet and slow; we were afraid of noise at this earlyhour. There was dew on the grass by the sand and it got our feet wet.

The beach was nottotally empty. A few people walked their dogs and ran by the water. The cold ocean consumed ourfeet with each passing wave.

"Do you remember the first day of summer?" Mikeasked. I couldn't see his eyes through his sunglasses. I couldn't read what he wasthinking.

"I think I slept through the first day ofsummer."

"Yeah, I don't remember either," he chuckled. I tried tothink back. It was one giant blur, filled with unsure memories and unreasonable conclusions. A bookwith all the pages ripped out, thrown violently into the cold Atlantic Ocean. We walked back to ourcars, filled to the brim with bags.

All the beachfront motels and modest cottages blurred aswe drove down Route 6A. I looked out the window until the motels ended and trees began. I tried tosleep, as had been recommended by my mother, but couldn't. Every single morning for the pasttwo weeks, except for this one, I hadn't been awake before nine o'clock. Now it was7:30 and I was wide awake.

In seven hours, I would be a world away. Five of those hourswould be spent driving, and about two would be spent at rest stops eating. Eventually, the highwaysbecame familiar, and so did the streets. And without warning, I was home again.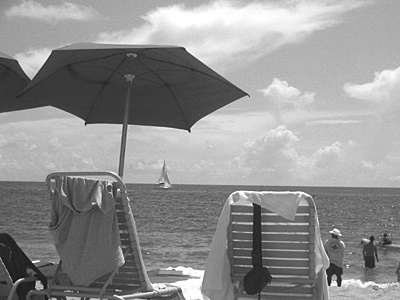 © Emily O., Boynton Beach, FL