College Visits - Uncensored
MAG
This was it: the trip I'd been waiting for all year, the one high-school juniors everywhere anticipate: The Visiting Colleges Trip. Only, it wasn't going to be a fun road trip with friends as I had hoped. Instead, I would be spending my entire vacation with my parents! My guidance counselor had advised my mother that this trip should be made with family, not friends. He believed my friends might influence my impressionable mind. Don't get me wrong, my friends can sometimes sway my attitude. But did he ever consider that my parents, who will be spending $80,000-120,000 on my education, might also manipulate my opinions? Evidently not.

Our initial plan was to drive from Massachusetts to Maryland where an eight-campus tour would begin. From there we would head to North Carolina, stopping at one or two schools a day, and then we would drive 15 hours home. Fortunately, we were able to find flights to Maryland and back from North Carolina, which left only five days to be stuck in a rental car with a father who gauges direction by the sun and a mother who reads maps upside down.

We made it to the first school in Maryland without incident. Unlike Massachusetts, Baltimore's highways are known by only one name, have consecutively numbered exits, and even signs that send drivers in the right direction. Amazing. Within five minutes of our arrival at school number one, I knew it wasn't right for me. After 15, I didn't see how it could be right for anyone. It reminded me of the twilight zone. All the students had vanished and the only living creature I saw was a frighteningly friendly squirrel. My father, concerned for my well-being, located some security officers who were able to tell him about the surrounding town. He informed my mother that in the last month there had been 12 cases of rape. Or maybe it was 12 cases of auto-theft - in his protective mind there was no difference. This area was not safe and I would not be attending school with the over-friendly squirrels. Shucks.

With that decided, we embarked on what should have been a fairly short ride to school number two, but for my family, nothing is ever easy. En route, our rental car began a foreboding shaking whenever pressure was applied to the brake. Not to be alarmed though, we were armed with cell phones, which my mother used to contact the rental agency. We would trade cars at Union Station in D.C. We just had to get there before the car exploded. My mother tried to locate our position on a map while my father drove according to where he thought the stars would be if it wasn't broad daylight. Somehow, using these techniques, we found Union Station after a mere two hours of driving in circles. Not bad. However, it did take us another 45 minutes to find the car company because signs are not too popular in that area. With the car situation under control we again headed for school number two.

We were not lost. This was the attitude my dad maintained for several hours while my mother searched her map. I avoided partaking in the navigation process, fearing for my life should I insult my father's sense of direction. He was a Boy Scout, for goodness sake! But I grew afraid that my college years would pass and we'd still be driving up and down M Street trying to find where it intersected with (the parallel) K Street. Finally my father swallowed his pride and asked for directions. Well, asking for directions may have been acceptable, but following them was not. My father decided that, having never been in the area, he still knew where he was going better than the man who lived there. He did not. It took four more sets of directions, a lot of luck, and two more hours before we found the campus. We finally find it using the position of the sun and the angle of the shadows, of course.

The week continued in this manner and finally, with our brains filled with mid-range SAT scores, average GPAs, safety statistics, available opportunities, historical information, and meaningless trivia, we returned home. All things considered, the trip was a success. We went to every school on our itinerary and still had time to do a little shopping. I was even able to narrow down my interests from every school on the East Coast to every school on the East Coast except for the three I didn't like. Looks like I'll have to call my friends and see what they think.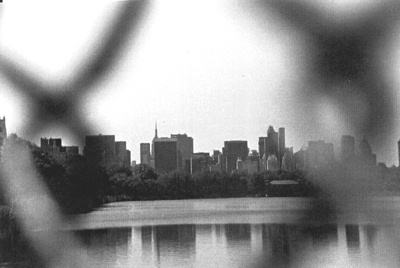 © Sarah M., Phoenix, AZ