I've Never ...
MAG
I've never been to Georgia, but
I know. I know all about
The terra-cotta roads that paint bare feet
With scarlet earth; the wildflowers that carpet
Flourishing hills and scrape the skin on
Sunburned legs.
And I know of the scorching sun
That browns hard-working shoulders;
The canopies of blossoming trees
That shade narrow country paths. And
The dogwood and azaleas that dance in
Soft breezes.
And the small clustered towns
That make their own red bricks,
Quarrying tons of granite
From deep ravined pits.
Where every face is friendly, and
Keys are seldom used.
And I know of the charming bits of history that
Hide behind ancient walls; the antique
Stories, houses, memoirs,
That are waiting to be discovered. The precious
fragments of olden days that accumulate
and secrete.
And behind a picket fence
I can see Doris, in a sapphire dress
Strolling across a hill of daisies,
her hair short and golden,
Humming a tune that Mother always sang;
Cousin Joyce tags along behind her,
in a yellow sun bonnet
Picking luscious, plump peaches.
And I see Cleo in the sunlit kitchen
Making strawberry jam and peach marmalade;
A pecan pie in the oven sends titillating smells
Lingering in the delicious air.
Outside, little Buddy jokes with Phil
And together they laugh until sunset.
And I know of the small cottage that rests
Upon acres of rolling crimson land;
The photographs framed by windowpanes
Of a setting Georgia sun that spills
prismatic colors across cherished soil. And
the carefree people that reside in their precious land.
And when I finally visit Georgia,
Time has grayed heads and wrinkled faces;
The young children I know now have
grandkids of their own.
But the land still thrives with splendor and pride,
And shines with the same beauty that it always has
In my grandmother's stories of the South.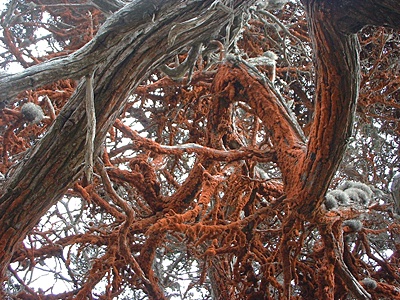 © Tyler B., Buenos Aires, Argentina