Rough Trip
MAG
This summer I had some adventures returning from Russia. As a prelude, I was delayed in New York for two days on my way because I was flying Aeroflot, which means something had to go wrong. They had overbooked the flight and 50 people were put up at a hotel that had no hot water! It ended up being a very interesting trip because of the people I met, but that was just the beginning.

The most difficult part of my trip was my return. When I went through passport control, they pulled me aside because my parental permission forms were incorrect. In Russia, for a minor to leave the country, they need a notarized form from a parent. My mother had done that in the U.S. and been told it would be sufficient, but when I got to passport control, they said that since I was traveling with my Russian passport as a Russian citizen, I needed a slip notarized by a Russian attorney. No matter how much I waved my American passport in front of them, they said that it didn't matter and they pulled me into the immigration control room.

While I was waiting, the immigration man walked off with my documents. I felt like a real criminal, like I would never be allowed to leave. When he returned, he gave me an evil look and said I was not going anywhere that day, and told me to get my baggage. When I asked if I could use a phone, he replied that there were pay phones outside security. I was beginning to panic and could feel my nerve endings electrocuting each other. I couldn't believe I wasn't allowed to go home! I bought a phone card but my troubles weren't over yet.

Finally I got to the phone and started dialing our friends' number that my mother had given me "just in case." I remember actually being angry with her, since I didn't want to waste my time writing down some stupid number. What can go wrong? I had thought.

I dialed and dialed, but whenever someone picked up and talked, they acted as though they couldn't hear me, and kept on saying, "Hello?" before hanging up. This felt like a nightmare; I was afraid I'd be stuck in this airport with no way of getting out. Then I realized what I was doing wrong. Apparently there's an answer button on the pay phone that you must press when someone answers. So finally I was able to get in touch with them, and we agreed to meet in a couple hours.

A bit relieved, I was able to sit and think about what I desperately wanted to tell my family in St. Petersburg, but I just curled up in a dimly lit area. The atmosphere smelled sweetly of luggage and cigarettes. Occasionally people would pass me on their way to the bathroom or to smoke. Most seemed calm, others seemed bored. I sat and stared at them from my bubble around my chair, and started thinking how since the very first day I'd arrived in Russia, I hadn't wanted to leave. It was as if my wish had been answered, and now I'd never leave. Unfortunately, as much as I wanted to stay, I thought about everything I needed to do when I returned to the States, and felt it would be better if I had been able to make that plane. I then thought about my reactions - initially panic, then denial followed by a nervous breakdown, and then gently moving toward serenity as I realized there was absolutely nothing I could do but wait. That is the worst feeling ever - utter helplessness.

Finally it was quarter to five, the time when I was supposed to be picked up. I headed outside, sat on my suitcase and began waiting. The time ticked away, but there was no sign of anyone. I decided to use the remaining time on my phone card and headed back through security, which was a royal pain. When I gave my friends another call, they explained that they were there and told me where to meet them. This time it worked out perfectly and they were as happy to see me as I was them.

They were absolutely amazing about everything. They welcomed me to stay with them for as long I needed, and made sure everything worked out. They truly were my heroes of the summer, because if it weren't for them, I would still be wasting away in that mucky old airport.

As soon as we got to their place, I called my family in St. Petersburg, and my mom in the States. Everyone was shocked and slightly panicked. I told them I was very well taken care of, and that I couldn't be happier. It gave me the extra time I needed to spend in Russia to say good-bye properly. After a shower and some sleep, things didn't seem so bad. For the few days that I would be there, I didn't have to worry about anything, so I could just enjoy life and relax.

Two days later we got my dad's permission for me to leave the country, which he had sent to Moscow by train. With great relief that I now had everything necessary to leave, we were ready to try our luck at the airport again. When we arrived, I wasn't nervous; I prepared myself for the possibility that I wouldn't be able to leave. Luckily, however, they were able to get me on a plane and I headed home.

I remember sitting on the plane as it took off, watching the trees and grass swish by, and the jolt when it lifted from the land. I felt sadness, yet satisfaction in the bottom of my soul. Satisfaction because I was finally safely on a plane, and sadness as I watched the city fade between the clouds as we climbed higher until it finally disappeared and the ground was replaced with castles in the clouds, as the rays of the sun caressed them, I knew that I wouldn't see land for another eight hours, and that I wouldn't see Russia for another eight months.

With this experience, though, I felt I had changed and could now get through anything. Even the most difficult situations have a solution.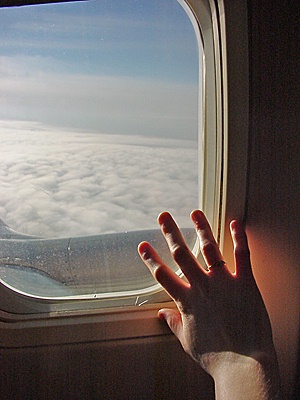 © Greg K., New Lenox, IL