Christmas Time in the City
MAG
There is one place where I always feel at home. It belongs to the honking of cars and crowds of people. It is covered in a blanket of tall skyscrapers and beautiful old buildings. It is a large city full of excitement and adventure: Chicago. The "Windy City" is a place I always love visiting, but especially at Christmas time when the downtown is filled with merry crowds and joyous shoppers.

I'm going to take you for a walk down the streets of Chicago I know. Snow crunches under your feet as you make your way. The wind blows through your hair, causing a shiver. The sidewalk is lined with store windows aglow with Christmas decorations. Tall street lamps are wound with holly and glittering Christmas lights. The street lamps illuminate the sidewalk with glowing warmth. Soon you come across Marshall Fields, a department store well known for its spectacular Christmas window displays. You may spot scenes from Harry Potter or Rudolph the Red-Nosed Reindeer. With moving parts, they make the display come to life. You see a horse clop by pulling a carriage. It looks exciting, but it is very cold so instead you step onto the trolley and immediately hear Christmas songs. As you sit on the hard seat, you watch the blur of shops and lights through the frosted window. Thrown against your seat, you realize the trolley has come to a halt. It is your stop. As you depart, you reflect on your experience. Traveling the streets of Chicago has been a beautiful and thrilling adventure.

A new magnificent sight draws your attention. It seems as though "The Nutcracker" is taking place before your eyes, reminding you of the moment Clara's Christmas tree magically starts to grow. That humongous tree stands in front of you, its branches garnished with gigantic bows, lights and ornaments. Underneath are presents fit for a giant. These packages look like buses covered in wrapping paper. This is definitely a Kodak moment!

You move on to join the crowds in a coffee shop with the aromas of chocolate and coffee filling the air. With a scrumptious cookie in one hand and hot chocolate in the other, you observe your surroundings. There are many people, all carrying loads of shopping bags that hold last-minute gifts. Some grin as they chat with friends or family. Others sink into comfy chairs, exhausted from shopping and walking. You hear music and return to the cold. Outside the shop sit a guitarist and a trumpet player, their duet a familiar holiday tune. You make a small donation, supporting the amazing entertainment.

A train's whistle blows in the distance, and you feel the night coming to an end. But before the sound echoes away, you remember you need to visit an old friend. Just inside the next shop sits a jolly old man adorned in red and white. With a final stop, a wish is made and you leave with a "Ho! Ho! Ho!" chiming in your ears. Trudging through snowdrifts, tiny flakes tickle your face. You make your way back to the train station, shopping bags in mitten-covered hands and the sound of tinkling bells ringing in your ears.

For me, walking with my family on the streets of Chicago is the essence of holiday shopping. Every year more memories are created that I will always remember. It is a special place and time for me. Chicago becomes a magical place I can escape to every year.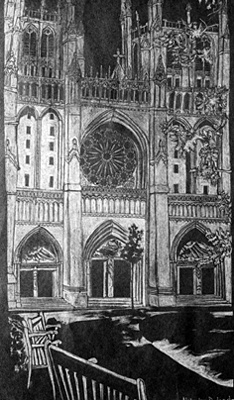 © Alejandra D., Kannappolis, NC