Craziness in the Capitol
MAG
Standing in the corner with my family I heard a loud boom, boom that I will never forget. It was July 24, 1998 and I was 13 years old, on vacation with my family in Washington, D.C. We had been to the White House, eaten lunch and then decided to tour the Capitol. I remember being guided through hallways to see the offices of some congressmen and government officials.

After the tour, my family sat in the Rotunda and discussed what to do next. Out of nowhere, two loud bangs echoed through the room. My initial reaction was thinking that one of the statues had fallen over. After scanning the room, I realized this was not the case.

Suddenly I saw tourists scattering and employees running toward the back of the room. I also noticed men who had appeared to be tourists running with their badges. Some, whom I now realize were Secret Service, even pulled out their firearms.

All the tourists were gathered and told to follow a guard to the basement. We were herded into a narrow hallway. There were a lot of tourists and little space, so it was pretty uncomfortable. As we waited, word spread that a shooting had occurred.

After an hour, police officers appeared to gather information from all of us. My dad was asked to give our phone number and address and fill out his account of the incident, even though we had seen nothing. Then we were released back into the world with little knowledge of what had actually happened, despite the fact that we were there. News cameras and reporters swarmed the tourists as we exited the building. We were not approached, but many of our companions were. Unfortunately, they, like us, knew very little of what had happened, and so were of little help.

We returned to our hotel and turned on the TV to see the headline "Shooting on Capitol Hill" on every channel. I thought it was pretty strange that we learned more about the event on TV than when we were actually experiencing it.

After all was said and done, we learned that an angry man stormed into the hallway of Rep. Tom Delay with the intention of killing him. Before he could reach him, a group of police officers intercepted him and shooting broke out. The gunman was injured and subdued only after fatally shooting Officers John Gibson and Jacob Chestnut. When we heard this, we could not believe that all of this had happened while we were right there.

The rest of our vacation in the capital city was much less eventful, but I was there when some history went down. That was one wild and crazy afternoon.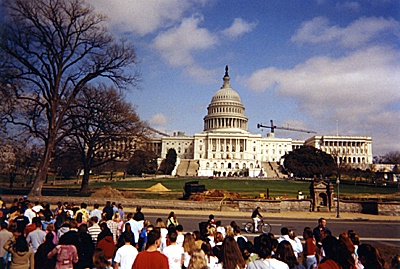 © Kayla M., St Michaels, MD