The Delta
MAG
I have spent the last 18 years of my life growing up in one of the most poverty-stricken regions in America: the Mississippi Delta. Here the American Dream is on its last legs. Don't get me wrong, people are very patriotic, but without a college degree you are not going to get far. You can find some of the worst neighborhoods in America in the Delta. My city has a higher crime rate per capita than New York City.

The city of Clarksdale, named after one of my good friend's ancestors, would be better called a town. The football field is named after my great-granddad. If you drive five minutes in any direction you will be in the country. There, you'll see endless fields in one phase or another of the farming cycle. I was raised in a farming family and have spent many long, hot days working the land under my granddad's scrutiny.

The summer is a time of endlessly humid days, and the winter is filled with cold, dreary skies. There are no amusement parks or shopping malls, just dusty fields to farm and muddy waters to fish. All there is to do here in this once money-filled, gone-bad region is nothing at all. I have spent many sultry summer days fishing with friends, debating what we should do next. Most of the time we wouldn't do anything except debate all day. My friends, these long lazy days, the slow moving lifestyle, the fields, the dust, and everything all blend in my mind to form the paradox of feelings I have about the Delta.

The older I get, the more the world tugs at my heart, and the thought of living my life in this desolate, former river-bottom becomes more and more terrifying. I find my thoughts captured in anticipation of that wonderful day next year. It shines like a light at the end of a tunnel, my very own day of infamy, the day I leave for college and say good-bye to the Mississippi Delta once and for all.

My only respite until that great day are vacations to Florida to visit my dad. This summer I went there expecting to enjoy my time in this place outside of reality, where real-life responsibilities were not allowed. It was not to be, though. The whole time I was there I had a nagging feeling. As my departure day quickly slid into view, this feeling dwindled, yet with it came the anxiety of going home where reality was lying in wait, ready to seize me back into its clutches.

As I came down that last hill into the Delta, the sun was shining warmly, the trees were swaying beautifully in that rare, life-sustaining Delta breeze, and instead of feeling an overwhelming sense of dread and sadness at the end of my brief absence, I felt peace. I felt good. I was home again. This was where I belonged, where I fit. I felt at that moment that all my past feelings for the Delta, the depression that comes from seeing the poverty, the hopelessness of ever making money, were sadly true, but I came to realize that no matter where I go or how long I stay, when I come down that last hill, I'm coming home.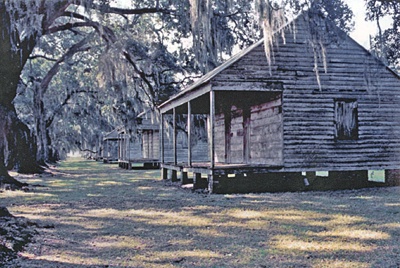 © Jacques L., Reserve, LA