Proud Heritage
MAG
Growing up in Brooklyn, surrounded by children who barely knew where their parents came from, I didn't see any reason to be proud of my ancestry. While classmates celebrated Christmas and other marketable holidays, I had a month of fasting and a few other minor celebrations. Well-meaning teachers seemed fascinated with my comparatively exotic background, and I withered under their ignorant but innocent questions. I just wanted to fit in, so I distanced myself from my heritage.

As I matured, I didn't feel guilt that the music of The Beatles and Pink Floyd held more meaning to me than Ravi Shankar's. My guitar lessons were a welcome replacement for the tabla, and Harry Potter was a lot more interesting than Tagore. Visits to Bangladesh were boring and I was bothered by what I perceived as the backward ways of a developing country. Despite my appearance, my family's origin, and my parents' continuing efforts, I was undeniably American, and I resolved to keep those opposing cultural forces separate.

Distancing myself from my culture was obviously superficial, and eventually I had to rethink this. Three summers ago my family again went to Bangladesh, and I was overwhelmed by the massive changes. The country I remembered for its rampant poverty, humidity, and mosquitoes was rapidly industrializing, and everywhere I saw the combination of Bengali culture and Western commercialization. Fascinated by this, I still didn't understand how I fit in.

Then a few months ago I saw "Pather Panchali," the landmark film by Satyajit Ray. As a child I couldn't sit through it. Now I was entranced by the remarkably detailed depiction of rural Bengali life, and impressed that something so beautiful could come from a region known for vapid Bollywood entertainment.

What finally enlightened me was reading Salman Rushdie's Midnight's Children, which completely grabbed me with its vivid descriptions of the fantastically diverse Indian subcontinent. What I'd thought of as a mildly interesting area of the world was fleshed out in all its raw detail, and I was amazed by everything I hadn't known about my parents' homeland.

I no longer thought of my heritage as something to hide. Instead it was something to be proud of. The barrier between two opposing forces - my parents' old versus my new - broke down as I realized that the only thing separating them was my own stubbornness. And so, I lost my reservations about all things Bengali. Now, with my Americanness still very much intact, and a newfound respect for my heritage, I feel like I've come to terms with my identity.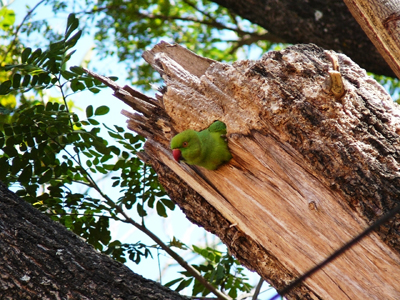 © Jaideep R., Bangalore, India