Italian Gal- Palio
December 29, 2009
"Mamma Mia!", my hands gripped on to the sides of the car seat as I watched each horse representing each door followed by hundreds of dames and warriors come towards me.
The Palio is a traditional San.Ginesio festival. For the whole night, the town of San. Ginesio comes together and dresses as medieval characters and every individual has their role.
The world outside San. Ginesio no longer exists and every entrance to the village is closed, which I obviously wasn't aware of whilst driving throught the event. San. Ginesio is divided into four doors; Alvaneto, Ofuna, Picena and Ascarana. The night consists of various games, one contest consists of hitting a silhouette of a knight. The joust of the ring is the final act, the horseman of the four "contrade" are rivals, they have to centre as many rings as possible and as fast as they can. Whoever gains the most points wins the Palio championship and receives the Palio, a 200 x 150cm banner.
Every year I witness the Palio and this year was no different. I studied the horsemen, cheered, oood and ahhhhd them, I always make sure that my player knows I a supporting him, even when he falls and is about to crash and burn.
Unfortunately my horse can't always win but at the dinner afterward, when they call forward every player, the Italians next to me look in shock and horror as I jump off my seat and clap my hands hysterically.
Too polite to say anything I gradually sit down and apologize.
My competitive cheer is definitely my very own tradition.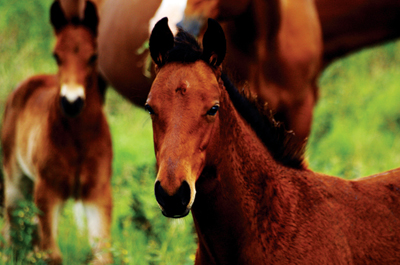 © Sarah L., Holualoa, HI