The Cultural Trip Of A Lifetime
October 22, 2009
Culture has always existed in my life, but the effects never really hit me until two summers ago. Judaism has always held a special place in my heart due to growing up familiar to only that specific religion. I'd found out that summer before that I was going to Israel. Running through my teenage mind was "Oh great, two weeks of my summer vacation completely demolished due to an educational family trip." As the school year was coming to a closing, I dreaded that 14-hour plane ride and every other bit of that "vacation." It sure wasn't considered a vacation in my mind. There was obviously nothing I could do in my power to avoid this educational experience, so I thought that I might as well embrace it.

It turns out that embracing it was the easy part. The hard part, was absorbing every piece of information I learned, and seeing how it tied into my life. Although it wasn't the most epic of vacations, it was the most striking. It started off by welcoming that roasting Israeli air, and letting it run through my veins. We'd met our tour guide and right off the bat, knew she was senseless and quite nutty, if you will. It was rather uncomfortable entering a different country that was altogether opposite of the United States. As the trip continued, we adventured to some exquisite sites, seeing exactly how diverse Israel was. The most impacting experience had to be Yad Vashem, or the Holocaust Memorial Museum of Israel. I wasn't sure if it was the time, or it happened to be the lay of the museum but it admittedly stirred my emotions.

I remembered entering the museum feeling as though it was superior to me. I felt not worthy, and beneath the crowd, unsure why I was reacting in this sort of manner. The museum was breath-taking, especially because of the structure. The start of the building spilled with sunlight, lighting up every ounce of the room. As the holocaust story grew dreary, the lights became dim, overwhelmed with dark thoughts. The exit of the museum was overlooking the view of Israel, everything from the mountains to the beautiful architecture. No other exhibition could trigger my inner thoughts like Yad Vashem had the ability to do. I went through a series of underground caves and sights to learn more about my ancient ancestry.

That trip was everything I didn't expect. It goes to show not to judge a book by its cover, or a vacation by things you assume. Not everything is what it is drawn up to be, whether happy or sad. My Israel trip was so memorable that it will remain with me forever. Although I may be too young to get the full effects of the trip, it still touched my deepest emotions. Some parts of the vacation were a bit miserable, knowing I had no access to technology or friends back in the United States. Throughout the trip, I had an unexplainable time and it will continue to be significant for my entire life.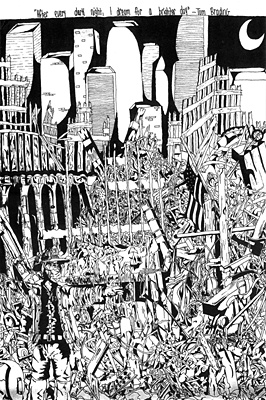 © Tom B., North Vernon, IN