Italian gal
August 2, 2009
Ciao to the world!

"Religion is the opium of the people"

You would think that being a Catholic nation, Italians would spend their Sundays at church, however the beach is just as sacred in Italy.
Rather than meeting the priest beforehand they greet the waxer and the hairdresser, they scratch their best church dress for the latest bikini and instead of reading glasses it seems a competition to find the most stylish sunglasses.
Unfortunately though, I wasn't aware of the rules when I rocked up...
My hair was tied back with my cap, I was carrying my lunchbox full of snacks in one hand and my umbrella and deckchair in the other. I was also almost transparent thanks to the factor 50 I had been applying all Summer.
I was suddenly distracted when infront of me, stood a beautiful Italian female. I studied her attently; wearing the tiniest of bikinis, having the most perfect tanned skin, her hair had been frizzled to be that straight and her make-up was applied flawlessly. I gradually turned my head away from the goddess sculpture and there they were: her clones.
The beach had suddenly trasformed itself, it was no longer sand and sea but a high fashion catwalk and I had suddenly been transformed into an outsider that just didn't belong there.
When I walked home I looked back on the day and I dreaded the thought that my friends were planning to repeat it the next week.
I then reached for my phone.
"Hello, I would like a waxing, hairdresser and personal shop assistant appointment please".
Once that was settled I giggled and I reflected on my experince.

Log on next week to hear more of an Italian gal's life..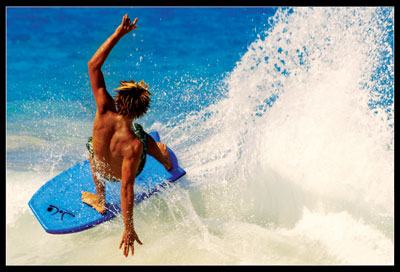 © Sarah L., Holualoa, HI