Ascent of a Lifetime
June 23, 2009
We cruised down the rugged logging roads of Pittsburg, New Hampshire in search of the off-road adventurers trail up the 3,350 ft. Mt. Magalloway. "Logging truck!" Yells my eldest sister, Sarah, pressing herself against her fiancé Dan as a gigantic dust cloud suddenly is seen racing toward our well-sized explorer. Our car lurches onto the nearest side road, nearly being rear ended by our companions in the silver X-terra behind us copying our panicked move. Legs shaking, head throbbing, and wrist about to fall off from Sarah's iron grip; my eyes, along with my parents' flash to the chipped, brown sign reading in bright yellow letters: Mt. Magalloway and fire tower. An arrow pointed straight ahead down the new found road. Joy fills both of the cars as finally we have reached our sought out destination and can at last escape the muggy, gross feeling of being packed like sardines in a can.

We park the cars at the base of what looks like a pretty steep trail. Above us the clouds are slowly condensing in the distance to look like one massive mound of vanilla ice-cream. One look to the clouds, then the trail and my mom and sister Rachel exchanges glances with a, "no way." Heading right back into the mechanical beasts that we've been traveling in for at least three hours now. I think to myself, "Let's go, time's a wastin'! Those clouds; this path, won't stop me from getting to the top!" After dizzying myself with running 30 small circles, Brian, my sister Becky's boyfriend, enlightens my dad with an, "I'll keep up with her so you can take an easy pace with the rest."

It was like a gun shot for the road race had gone off with a bang! I had a fire under my feet and I wasn't stopping until I reached that peak of 3,350 ft. That trail was like running straight up a wall and it hit me about 35ft up. The Light on the trail suddenly became a lot dimmer; a soft pitter-patter began to play at my ears. I turned to find Brian steadily following behind mouthing, "wait, wait!" I couldn't though, the energy I had was still raring to kick loose again, I had to go and beat the storm to the peak; I had to see that view mentioned in that ratty old book my mom had.
With the rain coming softly down upon us I bolted again up the ladder-like trail. Glasses fogging and legs beginning to burn like fire, we finally meet a pair of hikers coming down. It's been about 30 minutes since we've seen the bottom, and our pack, both Brian and I look upon the hikers with hopeful faces, like a child gives their parents when it nears the time for presents at a party. "You're nearly there." They say as they pass with their hiking attire and body-sized backpacks; they must have thought we were crazy hiking in Nike sneakers, with no backpack or hiking stick.

Our light has come back, drying our drenched shirts in minutes. A light colored fallen timber is lane across (most likely) the only non-ladder-like spot of the trail. It's smooth, cool surface is so welcoming after 35 minutes of booking it up what felt like the side of a pyramid. There was a small clearing of trees ahead that overlooked a lake; we sat there resting for five minutes; that's all my heart could take. I needed to see that view from the top.

Looking back now, I can't believe that my legs or heart didn't explode from all the energy and running fuel that I had that day. Brian and I reached the top of that beast of a trail at 45 minutes. Energy nearing its end, breath coming in great gasps, both Brian and I collapse to the warm, green carpet of moss covering the mountains top and relax, waiting for the others in the shade of the six-story fire tower.
I feel like we've been lying there on that warm, spongy green ground for hours when finally Dan comes huffing up the trail with his shirt tied around his head, his skeletal features in his chest showing a bit more bone than usual. "Becky's right behind me," he manages to wheeze, out as he full out plummets to the shade of the tower.
Sure enough Becky comes into view no less than five minutes later, carrying some fruit snacks and supporting herself with a rather small hiking stick. "Sarah and dad are a little ways down still, but Adam turned back when we hit about halfway." Dan courageously stood, beat his chest like a gorilla and headed back down the trail to help my dad and Sarah reach the top.
Becky was the first to experience the spectacular view from the six-story tower of terror. It felt like forever, but gradually I crawled on hands and knees up the narrow landing ladders to the swaying top of the tower. Laughter from below was ringing in my ears from Sarah; obviously at the fact that I literally crawled up the tower stairs. I got my hearty laugh though when I looked and saw Sarah, frozen as a statue on the first landing.
Wind whipping my hair and clothes, I clung to the floor of the swaying metal tower. "This is not safe!" I called to Becky as she strolled around leisurely video-taping the view. On the brink of tears from fear, my attention was suddenly brought away from the dark, splintered floor of the last landing, to the familiar tune of America the Beautiful. For once in my life I lost my fear and stood up to gaze at the majestic sight of the land surrounding me, while my sister Becky filmed the view singing America the Beautiful to the world.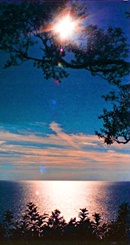 © Crystal B., Gresham, WI