Ordinary Excitement
MAG
May 26, 2009
Growing up in Brazil, a third-world country, has taught me to appreciate certain things about America that most people take for granted. Sights as basic as organized traffic impress me, in addition to cars that stay in their own lanes, motorcyclists who don't weave in and out of traffic as if the road is an obstacle course, and the lack of traffic jams due to donkey carts.

Upon arriving in the United States from Brazil, one of the first things I notice is the clean smell. There are no traces of mildewed sidewalks or smoke from burning trash. It just smells fresh.

Then my attention turns to the fact that while the outfit I put on earlier in the day appeared fairly nice at the time, now it seems worn and faded. Until that point it hadn't mattered that my clothes had suffered the effects of a harsher climate, but suddenly, noticing that everyone else seems at the height of fashion, I become self-conscious.

Each time I visit the U.S. I notice several technological advances that have appeared since my last trip. I remember being puzzled finding faucets with no handles or buttons to turn on the water. The idea of motion-activation still makes me smile. I'm sure I received many odd looks when I first discovered that all it took to get a paper towel was a simple wave of the hand. Touch screens were also a new concept; I could spend hours entertaining myself with them, that is, if I could ever master their use.

Even something as mundane as grocery shopping provides hours of excitement. The sheer variety of items at a Walmart is enough to set my head spinning. And the cereal section is cause for giggles of glee as I make a vain attempt to choose from an entire aisle of options as opposed to the small shelf I am used to. And then there is the endless variety of comfort foods that many take for granted: peanut butter, Pop Tarts, tortilla chips, dill pickles, salsa, etc. The whole concept of ready-made meals and instant anything makes food preparation a completely different experience.

Of course, not all the surprises I find in the United States are pleasant: every country has its downfalls. People tend to be cooler and more isolated here. It always takes me several weeks to get used to the fact that it's socially unacceptable to hug people I am not well acquainted with. In America people expect a three-foot radius of personal space.

I love both of my countries; each is a part of who I am. I always miss the other, regardless of where I am. And so I find myself looking forward to returning and rediscovering all the little things that make up each country's everyday life.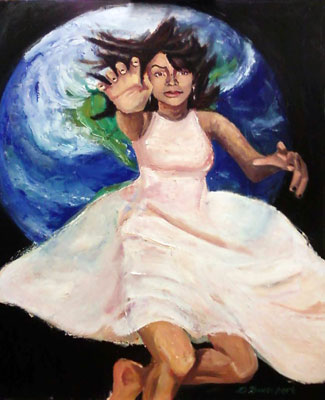 © Dominique D., Ozone Park, NY