Trip Down South
April 27, 2009
Trip down South



When I was in 3rd grade, my family and I drove down to Georgia. Imagine this, two parents and three kids under the age of eight. This trip had many ups and downs, and it was a trip that I will always remember.
I was in third grade, my sister Rachel was in 1st grade, and my little sister Brooke was about two years old. The car ride was really long but we borrowed a television from our neighbors and used that in the car and watched a bunch of movies. The only bad thing about the drive down was that something went wrong with our car, that we thought we had fixed. So we had to bring it in somewhere. While they were fixing it, all we had to do was walk around this little town because we were hours away from home by this time.
Once back on the road, we made several stops along the way, but one of our first stops was in Tennessee. In Tennessee we went to a Dixie stampede. It was a dinner and a show performance. The dinner was really good; it was chicken and soup. The only thing was that it was really dark in the room so I couldn't really see what I was eating very well. It was really hard to see what servers were putting on my plate to eat because all the lights were on the performance.

Our next stop was Jeckle Island; that's in Georgia. There we stayed in this hotel that was right on the beach, which was awesome. It had sand dollars everywhere, and I mean everywhere. We found thousands of whole ones. There were little jelly fish all over the sand where I walked. It wasn't that bad, actually, but people said if I stepped on one, I might feel a sting. Also in Georgia we went to a place with a huge dock. There were tons of fishermen and vacationers on it. There we saw dolphins jumping up and down in the ocean. It was really cool. There, we also saw someone catch a hammerhead shark. We also rented this bike and we all went on a bike ride. It was just one bike, and my sisters both sat in this basket seat thing in front, and I sat in between my mom and dad. We rode that on a really pretty trail and throughout the island. We also rode back to this really cool store; there my sister Rachel and I bought necklaces.
While we were in Georgia, everything wasn't perfect. In Georgia my little sister Brooke also got the flu. This really wasn't very fun. We also found out that I had strep throat. So my mom had to stay behind with my little sister while my other sister and I went to the beach with my dad. They took turns doing that on and off. Also in Georgia there was nowhere to eat except for this restaurant called Bennigens and this pizza place. But the day we had pizza, the cheese on it was really stringy, and I choked on it a couple of times. The only store was this little tiny store. All the other places to eat were sea food restaurants, and my sisters and I really didn't like it at that time.
On our way back from Georgia we stopped at mammoth cave, in Kentucky. The cave we went to was really cool it had like gun powder around on the ground and it was dug out where the water used to be it was really cool to see. But the walk back there was really long. Or at least that's what I remember.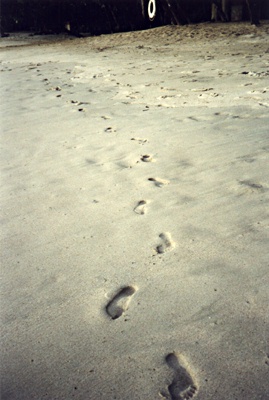 © April W., Rogersville, MO