My First Winter
MAG
May 2, 2009
For 13 years, I was an equator child. I'd lived in seven places spanning four countries – Malaysia, Brazil, Thailand, and Singapore – all of which were summer-like all year long. So the cold was a thrilling adventure, and snow was to be all but worshipped.

The first time I saw snow was on a spring visit to Salt Lake City, my soon-to-be home. Those gray flecks of slush were the most beautiful creations of nature I had ever seen. I ran; I danced; I played; I made up a snow song and caught white flakes on the tip of my laughing tongue. But as day gave way to evening, I felt the frost. The magical transforming crystals were just cold water now, and I retreated to the comfort of warmth.

That autumn I moved to Utah just as a tentative chill began to steal across the city. I wasn't worried – quite the opposite, I was full of the overconfident energy of summer. It was only as August faded into September that that electricity began to wane. As excitedly as I had danced before, now I slowed, wary.

The countries I'd lived in weren't just summer for the heat; they were summer culture all year round too, with its warmth, hope, and magic – and that had been my life for 13 years. Bare feet, soft grass, sun, laughter, daydreams, footprints on the beach, happy endings – that was life as I knew it.

And now? Maybe I'd overestimated myself and my ability to adapt. Why had I thought this would be easy? I huddled under my blankets and worried myself to sleep. That first day was a blur, every breath I took was one of uncertainty. This world was so alien, so cold. I felt the prickling numbness of frostbite, and I curled up for warmth to the one thing that wasn't unfamiliar: me.

Winter passed as I wrapped myself in a blanket of memories, hibernating. I clung to these as if they were lilawadee petals, a nostalgic reminder that once upon a time it had been summer.

Flowers take coaxing to grow; come spring, shy tendrils began to peek out of the soil. I'd almost begun to believe that summer never existed at all, but the smiling sunshine thawed me, along with the ice. It brought back a hint of that summer magic, and in its comforting light, I let myself bloom. Petal by petal I unfolded, and by the time summer arrived, I wondered what I had feared.

Seasons come and go, come and go, and though the sun's vitality shines less brightly in wintertime, there is a certain peace and restfulness I had never known before. A slowing down, a serenity.

I'll always be a summer child, but I can appreciate the winter months now for what they are. And I will always have the promise that summer will come again.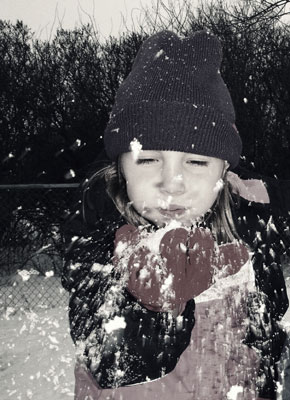 © Ashley K., Harvey, ND