My Remarkable Jorney
May 15, 2009
(Part of my diary)
May 25, 2007 (Dallas Fort Worth Airport, USA)
It's a humid summer day. My family and I were standing in line waiting to drop off our suitcases. After hours of waiting, we finally got in the airplane and started this exciting journey back to our country, Vietnam.
May 27, 2007 (Tan Son Nhat airport, Vietnam)
After countless hours of sitting on the airplane, I was so tired; however, the great scene of Vietnam's airport really awoke me. There is a special scene there; it's the home's scene that I have not felt for years. When we got out from the airport, my family was waiting for us: my uncles, aunties, cousins…almost everyone in my family was there to pick us up.
May 28, 2007 (my precious house).
Going back to my house was the best thing ever; it's been years that I haven't seen it; my little house became older to me. I guess I have grown taller and that caused me to feel that my house had shrunk a little bit.
The next morning I woke up so early, it's only 6 in the morning and I felt that I could sleep no more; back then in the U.S, I rarely woke up by 10 a.m. The morning was always the best time in my country; since I live in the country side, waking up by hearing the cock sound is a very familiar thing. When I take a look outside of the window, everyone in my town has already woken up and they have started to do their daily work, things like sweep up their yard, the children start their walk to school in groups (in Vietnam the school ends about a month later than in the U.S), some elderly people walk back home from their early morning jog.
While I'm taking a shower, I hear a very familiar voice from the yard from one of my close friends when I was in middle school. He is my cousin and happens to be the same grade as me, so we attended school together when we were young. He came to look for me so we can go eat breakfast in the market like we used to when I was young.
The morning light was shining on our way walking to the market place for breakfast, as I laugh and talk to my childhood friend, I notice many familiar faces that I haven't see for years; they all smile at me as a welcome home's smile. For that movement, I knew how much I love this place and from that day, the journey back to my childhood time started again. I sure gain something wonderful from this come back home trip.
June 5, 2007 (Wishing night)
This is the most remarkable night ever. I went to my friend's house to sleep with my middle school friends; they are the girls that I used to hang out with at school. We slept at my best friend's house; that is a two story house, and the best part was: not sleeping all night long. We went to the second story of her house, laying there, looking at the beautiful stars and talking; it seems like I have missed so much these years, but everyone tries to tell me everything from where I left off so that we all start from the same spot.
Under the huge night sky, for the first time, I saw a shooting star; my wish was: this night won't ever end….
June 18, 2007 (a night to remember)
There was a small party at my house because it was almost time for me to come back to the U.S; I can't stay in Vietnam for long because my parents have to keep their jobs. Everyone there was laughing and smiling, but theses are all fake to keep the party going through; we all feel sad. This time was so fun and I really don't want this time to pass at all, but I'm unable to change anything at the moment.
June 21, 2007 (A remarkable rainy day)
That day, I was unable to define whether I loved the airport or not. Within a month a go, I loved this airport at the time that it brought me back home, but right in the moment that I was about to take off and say good bye to my family and friends, I really disliked the airport -- it was a sad place. For a second I wish the airport could disappear for a moment so I can stay with my family for a while.
The airplane takes off with a heavy feeling in my chest; I didn't cry. This was similar to the first time that my family came to the U.S: even though I really wanted to cry, I didn't; I was the oldest child in the family, and the only one who is able to help my parents out, so I really have to stay strong.

Some people said that "rain will erase everything and let you have a new start" other said that " I love rain because when raining, no one can see I cry" the day I left my country was a rainy day, it rain all day long that made I wan to cy…. Until now, when it rain, I still have a sad feeling missing a part to my great summer trip. Rain did remind my promise back then…

Unlike the last time when I left without any promise, this time, I made a promise to my family, friends, and teacher in Vietnam, that I'll make it to college, that I won't mess up at school and most of all, I did promise to be back for them. I want to come back because I really don't want to fail everyone's hope for me, because I want to see my house, family and friends again, but most of all, I want to come back because I need to answer to myself, knowing that I didn't fail without trying and at least I should be proud of myself. I need to prove that I am confident, that I will tackle the new obstacles in life with the same spirit. I will stand tall in the end, so the time that I spent in the U.S. studying all these years was worth the try.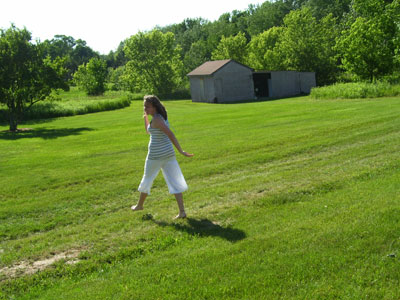 © Jamie Y., Alto, MI