Snowbunny's Fear
April 6, 2009
I was ten and had never seen snow when my dad told me I was going to learn how to ski. Never having been that athletically inclined, I was terrified. On the outside, I acted excited, ecstatic. On the inside, I was hyperventilating. Irrationally, I postulated that by the end of this trip I would either break my first bone or meet the same fate as Sunny Bono. Nevertheless, I found myself strapped into a pair of skis and looking like the Michelin man a month later. I grasped my dad's hand up the fifteen minute chair ride and sent a silent prayer up to the heavens. We had chosen a simple trail to start with after some practicing at the base of the mountain. With minimal damage getting off the ski lift, we were ready to go. 'Make your skis into a pizza' repeated in my mind. The run started off fine; a simple green that was practically flat. Then we came to the hill. At the time, it was as if someone had asked me to heli-ski in the Swiss Alps. In actuality, it was a perfectly slanted and exceptionally wide slope.
But it did not matter to me, because all I wanted to do in that moment was sit in the cold snow and cry. If I had to stay at the top of the hill for the rest of my life then so be it. Of course, after reality had set in, I had no choice. So I began slow and steady, working my way through the grooves in the snow and following in my dad's ski marks. Focused solely on the movement of my skis, I did not realize that I was standing at the base of the hill until I was gaping up at my accomplishment. I had done it, overcome my fear and survived! It was the best feeling in the world and a love affair with skiing began. Now, six years later, I have skied black diamond rated runs in Vail, Colorado and no longer hold my dad's hand on a ski lift. Steep hills rarely scare me, in fact quite the opposite, and a ski trip is counted down by the minutes, not dreaded. However, a sense of pride still fills me with each run completed. In many ways, growing as a skier has reflected my growth as a person.
When I was young, I was shy and relied heavily on my parents, knowing they would always be there to hold my hand on the scary ski lift. I was living life on the green slope and every little bump scared me. Now with more life experience and maturity, I have graduated to the black diamond slopes of life. I now form my own paths through the snow, not needing the already established tracks of my dad. I enjoy challenges and setting new standards for myself. Life's challenge will always trip me up, but I am ready to get back on my skis.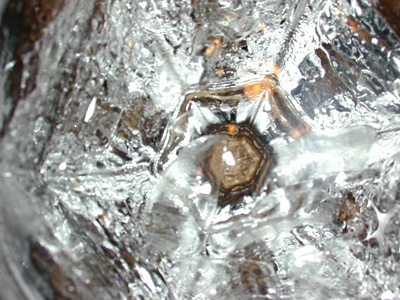 © Maria R., Allston, MA