Game Time
March 23, 2009
"Put the biscuit in the basket!" My team yells, a phrase pertaining to put the puck in the net, or basically score a goal. Two hours of everyday eighteen girls dedicate themselves to the game we love, hockey. Working hard five days in practice, preparing for a weekend of games. "Our goal is to get better each and every practice." Coach Norton always says. We give him a lot of crap for saying that, but the truth is, to become a successful team we need to take advantage of every moment on the ice.
We started off the year working hard, building up for our first games. We all knew how tough our competition was going to be. We were playing the defending National Champions, Chicago Mission. They are the most intimidating team I've ever played. Kendall Coyne, my age, is playing for the U-18 USA team. She scored the game winner in Germany this past winter break, as well as scoring the game winner in the National Championships resulting in the Missions first place trophy. Kendall Coyne is known in girl's hockey as one of the "best", and we were playing her our first games of the season. The game was one day away, and I know that each girl on the team had butterflies in their stomachs already. We practiced hard Friday preparing for the game Saturday. "Were on a mission to beat the mission!" our slogan advertising our home opener games. We were hoping for a crown to pump us up. Finally, it was Saturday morning and we had our usual early team breakfast. At eight in the morning, I would have never expected to see so many girls excited and awake. Hours passed and it was game time. Music blaring in the locker room getting us pumped, girls taping sticks, and others putting on their equipment. Everyone was dressed and it was time to get on the ice. We had a pretty big crowd, with lots of cheering. "This, right here, is the moment we've been waiting for, let's make history and beat the Mission just like last year!" I couldn't have asked for a better game. The game was tied zero to zero until the third period. Right after the ice cut the Mission scored their first goal. Of course this upset the team but we never gave up. Unfortunately the Mission scored again, but we still weren't giving up. The Mission received a penalty leaving us with a man advantage. Being the quarter back of the power play, I was extremely nervous. If I ruined the first pass, nothing else was going to go right. Luckily everything went smooth! Probably because we practiced the Power Play everyday the week before. We worked the puck to their end and pass, shoot, SCORE! We scored to make it 2 to 1. Even though we were still losing I felt like we were winning. We put the Mission on their heels. They were scared, and we had a lot of momentum. The game was almost over, still 2 to 1, and we pulled our goalie hoping to score with another man advantage. It didn't happen and The Mission scored another goal to make it 3 to 1. The score didn't reflect our playing; it could have gone either way, we could have won 3-1, the cookie just didn't crumble our way.
Even though, losing our first game of the season at home wasn't the way we wanted it to be, it didn't set us back. This whole season we have been getting better and better. Our trip out East was very successful for the first time in Culver history. We received second place, losing to a great team with .01 seconds left. We keep working five days a week striving to get better, and getting ready for the important games.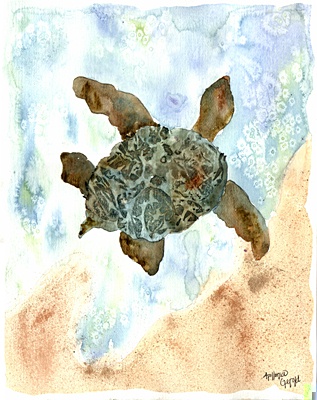 © Apollonia G., Buffalo, NY