The Next Three Years
May 3, 2018
The whistle blew, and the first half was over. I walked off the court with my teammates, our heads all down. It was our first game of the season versus Ridgewood, and we were already losing by 15 points. Our coach kept telling us that this game would set the tone for the whole season. If the season went on just as this half did, it would be a disappointment to everyone. At half-time, our coach gave our team a talk telling us that he knew we were better than Ridgewood. He encouraged us to recollect our focus and to "play our game." It was time for the second half, and I had a good feeling. There were 20 seconds left, and we were down by one. My heart was beating fast and I was out of breath, but I knew I couldn't stop. I couldn't let my team down. I had the ball and looked at my defender; I had to take this shot. I trusted my three-point skills and as the ball went into the air, I was confident. The ball went through the net and our small crowd of parents erupted with cheers. I imagined what it would be like to have a varsity game crowd cheer me on. I knew I could get there someday. My teammates ran over to me and congratulated me as we all high-fived. This was a feeling that I never wanted to end.

An important part of playing basketball is separating yourself from your teammates to compete for your coaches' attention. Since I played football in the fall, I was not able to try out at the original tryouts. This meant I would have to compete for one of the last three spots on the Junior Varsity team. The football season finally ended, and it was time to try out. I was not nervous since I made the freshman team my first high school season. Although I had not practiced for the tryouts, I shot very well and played aggressively. The coaches were very impressed with my skills and I earned one of the last three spots on the team.

One day while I was eating lunch, I received a text from the Varsity Coach, Joe Sandberg. At first, I was confused and was curious as to what the text would be. He said that he wanted to move me up to the next level of Varsity because the coaches felt that I could contribute to the team out in a positive way. I was so overjoyed and excited to hear this news because it was a better level of play than the Junior Varsity team. Since I was only a sophomore, I was excited to have two more years after this season of playing varsity. This gave me a lot of confidence knowing that the coaches had faith in my talent.

The next day at practice, Coach Sandberg handed me a jersey with the number 54 on the back in big green numbers. I was excited to have my first varsity jersey; it was the start of a whole new chapter in my basketball career. I knew that when wearing this jersey, I had to play to my best potential. I was responsible for the reputation of my team and I couldn't disappoint the team that was written across my chest.

Our first varsity game was a tournament during the break of Christmas. We played Rutgers Prep. Everyone was expecting us to lose since Rutgers Prep was ranked much higher than us. We fought as hard as we could and ended up beating them by over 15 points. With their Division 1 commits and strategic coaching, we proved many people wrong. Our next game was versus Hackensack in the championship game of the tournament. Hackensack had two players committed to colleges for basketball, but we did not see this as an obstacle; we used it as motivation. The day before the Hackensack game, I had gotten brand new white Nike basketball sneakers. Warming up for this game, I was extremely nervous since it was my first game as a varsity athlete. It was the fourth quarter and there were 8 minutes left. As I was sitting on the bench, my coach yelled, "Chris! You're in." I was shocked to hear those words. I was scared my nerves would get the best of me and I would not play well. Though, with my new white sneakers and number 54 on my back, I stepped on the court and joined my team. We were down by nine points and I knew I couldn't disappoint my coach, who had faith in me since bringing me up to the team. My teammate passed me the ball as I was in the corner of the court. My coach was yelling, "Shoot the ball, Chris!" My heart was racing and there was sweat dripping down my face. But just like that game against Ridgewood, I gained confidence and shot the three-pointer. At first, I thought it was going to hit the side of the backboard and not go in. But to my surprise, it ended up swishing right into the net and I scored my first varsity points. The crowd cheered. Two hundred people in that gym were cheering for me, as I had scored my first varsity points. That feeling was one I had been chasing since the moment I was invited to the varsity team. Although we ended up losing that game, it did not matter to me. I knew I had lived up to Coach Sandberg's high expectations and I couldn't have been happier with myself. From then on, I knew I couldn't doubt myself again. For the rest of the season, I would step on the court with my white Nike sneakers and my varsity jersey, to prove the basketball player I had become.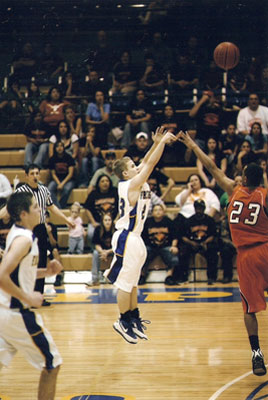 © Jordan M., Lubbock, TX