The 68
April 10, 2018
Friday, May 18th, we received an email, which could have been life changing. When my dad opened his email that morning, he was deleting junk email as he normally would. That day, he stumbled upon an email from a recruiting company by the name of 200x85. This email contained an invitation to the STX68 camp, which invited the top 60 forwards and defense-men, and 8 goalies in the United States.
Two months had now passed by. We had finished practice that day, and now we were leaving to Chicago for the camp. Another family had been nice enough to offer me a ride down to the city. My stomach was churning and aching like crazy with nerves. All I could think about, was whether or not I'd be able to perform. In their mind, I should be at this camp; but did I deserve it? Was I supposed to be here? Throughout the entire car ride these questions were bouncing around my head.

Once we arrived at our dorms that the night, I started seeing people that I knew. It was nice being able to see numerous familiar faces from around the country that I hadn't seen in a while. The more people I saw and caught up with, the less I started thinking and worrying. Soon we were assigned to our dorms, and were given our schedules and a time to report for the banquet. We settled into our dorms and before we knew it we were sitting in the ballroom of the hotel, with several NHL and NCAA players and coaches' sitting before us waiting to give their speech. To this day, that was still one of the most influential and motivational speeches that I have ever been to.

After the speech and meal ended, we were invited to check out our new gear, apparel and jerseys that were supplied for us. Filled with excitement, the kids were starting to make their way back to our dorms. Although my stomach was previously churning and nervous that was now gone, and my head was filled with adrenaline. I didn't want to wait. I wanted to get out there right then and there and play my game.

Day one of the camp. We had the early report time to the rink, so we were all up for breakfast by 6:30 A.M. Little did we know, they were putting together a documentary and a T.V. show, so we were filmed everywhere that we went. When we arrived to the rink, we had our on ice testing. For goaltenders, this didn't apply to us so we had the morning to stretch out and relax soaking up the attention of the camera. Immediately after on ice testing, we had practice which was extremely high tempo, followed by many rigorous off ice tests that ended the morning.

We had time to kill from 12:30 P.M. until our game at 7:00 P.M. that night. Being as tired as I was, the nerves returned. Was I going to be too tired? What would happen if I was? We returned to our dorms, and as a team we watched a few movies, and ended up falling asleep until about 4:15 P.M. We woke up just in time to catch our ride to the rink at 4:45 P.M. We got to the rink around 5:00 P. M two hours before the game time. We all went through our pregame routines, and we were ready to go.

When we were sitting around in the locker room, everything was clear as day and moving in slow motion. The smell of old hockey gear and oranges that were provided for us in the locker room. Seeing the team laughing together and connecting over a few pregame jokes. Before we knew it, we were marching out of the locker room on our way to the ice. It was hard to focus with the cameras in our faces. The moment I stepped on the ice, I knew, at the time that was the most important time I had ever been on the ice. Getting in the net for warm ups, I could feel the blood pumping through my veins. Every shot that was taken was watched into my equipment with precision. I could feel and hear the snap of the puck finding its way into my glove. Every crisp sound of the skate blades cutting through the ice. Simply like that, warm-ups were over, and it was time for the game.

Once the puck dropped, the other team immediately picked up the puck, came down on the rush, and ripped a shot that found its way off my pad right to another opponent… he made no mistake burying the rebound. Well… 20 second in and I had already let a goal in. This wasn't the start that I had been heavily anticipating. Veering up into the stands at the proud parents, the scouts and then looking right at the camera. Only like that, all the nerves were back and worse than ever. "Let it go," "just don't think about it." These phrases kept playing in the back of my mind for the next 30 seconds as I waited for the puck to drop. A few teammates came down saying
"It's all good Ethan, let's go."

Others said "that's not on you Ethan lets go get em' now."

When the puck dropped, an eerily similar play accrued. They came down on another odd man rush, moving the puck to the outside, getting a better shot off. This time I was ready, as the puck neared, I snatched it before it could buzz over my shoulder. That was critical save for the fate of the remaining game. A few minutes later our team marched down and scored on a good play, and then we scored again. Suddenly, we were winning 2-1. Just before the end of the first period, we had a shot blocked on the blue line, and the other team raced down on a breakaway and fired a quick shot that I was able to turn aside with my blocker. We made our way out of the first period with the 2-1 lead. Everyone had settled into the faster pace of the game now. Early into the second period, we quickly extended our lead off of the fast break giving us a 3-1 lead.

We thought the game was over. In our mind, the game was in the bag. As the period went on, the tides started to turn... They were putting on the pressure now. After they had the puck in our zone for many minutes consistently, we finally got a whistle; but unfortunately, it came on a penalty called against us. As their power play continued, they kept firing shots from all angles dominating us. With 30 seconds left in the penalty and the period, they were able to get a pass back door, and put the puck away to make it one goal game. 3-2.

That goal didn't stop them, quickly after, they came down to the last 30 seconds of the period, firing a rocket of a shot back door that rang off the crossbar and catapulted into the ceiling as the buzzer went. Although they had dominated us the last 13 minutes of the game, we still managed to hold a one goal lead going into the third and final period. As I skated to the corner, the cameraman was in my face, following me along the glass. One last look up into the stands at all the scouts and coaches there to see the players perform. We had 17 minutes left to show them everything that we had left in our tank. Our legs felt like gelatin, thank goodness there was one period left to be played.

It was now or never.

Each team made their way to their respective sides and the third period was underway. That period started simply as the previous period had left off. They came with everything they had. They were making moves around our defense-men, firing shots and crashing the net on every opportunity they had. We couldn't catch a break, our passes weren't connecting, we weren't getting lucky bounces, and everything that could have gone wrong, went wrong. Our team was fighting on pure desperation trying to hold their offensive threats off. After 7 minutes of pressure, we finally were able to get an odd man rush, which the goaltender made a strong save, but on the rebound attempt our player was tripped. We now had the power play. A sigh of relief came through my body.
Finally, a moment to rest without constant pressure. As our power play began, they quickly retrieved and iced the puck down taking precious time off the clock. We quickly were able to retreat getting the puck back into their zone. We now had them chasing. They were becoming dog tired as we pinned them in their zone and gained more and more momentum. With 45 seconds left in our power play, we caught them on a change launching one of our players on a breakaway, where he made no mistake putting the puck away. Now with 6 minutes left in the game, we had regained our 2 goal lead making it 4-2. The best part was, we now felt better than ever, but they came off the face off giving every last ounce of energy that they had. They were taking hits, and ripping shots doing everything that they could to stay in the game. Both teams were relentless. The pace of the game was fantastic going back and forth exchanging blows at one another. Their best defense-men carried the puck on our blue line, and we caught the biggest break of the game. He caught a bad edge and fell down, turning over the puck giving our kids a 2-0 odd man rush. Tic-tac-toe. Two passes back and forth, and we buried another goal. Going up 4-2 with over 3 minutes remaining in the game. Now we could relax somewhat. They had nothing left after that goal. The game ended with dumping the puck back and forth.

We ended up winning that hard fought game 4-1. To this day, that game is up there on the list of most exhilarating games I've ever played in. Not to mention the experience of a lifetime that I had at the camp. That day, as the clock wound down, all I could think of, was how nervous I was leading up to the game. It was weird to think how bad of a start the game had. I realized throughout the game I wasn't thinking about what was going on; instead, my instincts kicked in, and I did what all the practice had taught me to do.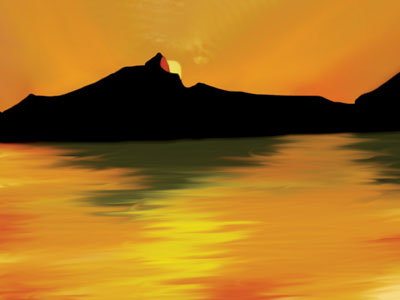 © Rachel M., Camarillo, CA