Taking Home Gold
April 2, 2018
Twenty years ago the U.S. women's ice hockey team made history. For the first time ever, in 1998, women's ice hockey was included in the Olympics. The U.S. was overjoyed to have beaten their biggest rival, Canada, in their first Olympics. Now, everyone knows that Canada dominates in ice hockey and they have proven it by winning gold in the 4 Olympics since. The United States has placed in all of the Olympics and has fallen only a few goals short of winning gold several times against Canada. Even after suffering defeat for so many years the U.S. never gave up. On February 22, 2018, all of team U.S.A's hard work paid off and they won gold.

At this years Olympics, team U.S.A. went in confident that they had the team to win gold. Going into the preliminary rounds Finland and Russia didn't have a chance against the U.S. We controlled both games winning 3-1 and 5-0. Once we went up against Canada we made lots of little mistakes which cost us the game. Because Canada is so good and is U.S.A's biggest rival, it rattled them up and they failed to perform at their best. However, team U.S.A. never lost hope and they stayed confident throughout. To nobody's surprise, Canada and the U.S. stayed on top of the leaderboard and ended up set to compete for gold on Thursday, February 22.
The day had arrived and the game was in progress. In the first period, both teams struggled to get the puck in the back of the net. Team U.S.A. didn't get a shot on net for the first 7 minutes of the game. Thankfully, the game was mostly back and forth. Maddie Rooney, team U.S.A's 20-year-old goalie, made some pretty outstanding saves in the first period to keep Canada from scoring. At one point Rooney fell back onto her side to make an outstanding save with her stick. With a mere 25 seconds left in the first, Sidney Morin, for team U.S.A. shot low to the center of the net. Hilary Knight placed herself in front, to screen Canada's goalie, Shannon Szabados, and managed to deflect the puck into the net through her five hole. Team U.S.A. goes into the second period leading 1-0 over Canada.

Going into the second period with a lead was big for team U.S.A., but their lead wasn't big enough for them to relax yet. Only two minutes into the second period Canada's, Haley Irwin, scored from a deflection off of Maddie Rooney's stick. The shot was from the very bottom of the circle and should have been an easy save but instead, it snuck by. #29 for team Canada also scored within the first half of the second. Canada took the lead for the rest of the second period and for over half of the third, as well. Just when it was looking like Canada would win gold, Monique Lamoureux scored on a breakaway with less than 7 minutes left in the game. While the majority of other players were changing, Monique was making her way to the opposite side of the ice on the blue line.
Miraculously, a pass made it all the way across the ice and left Monique with the perfect chance to tie up the game. While both teams had great scoring opportunities, neither team was able to capitalize and the game went into overtime.

The teams played one sudden death overtime of twenty minutes. Although the OT was very intense, nobody scored and they began a shootout. Each team gets 5 shots and whoever has more goals at the end wins. #19 and #28 scored for team U.S.A. and #2 and #15 scored for team Canada. After 5 shots each we were still tied, which meant we would go one by one. Each team got one shot and once one team scored and the other didn't we would have a winner. The U.S. sent Jocelyne Lamoureux into the shootout. She made an amazing move around the goalie and scored. Maddie Rooney then made yet another save, but this time it was for the gold.

For 20 years team U.S.A. has been fighting for this win. After years of hard work and training, we were able to pull through and get ourselves gold. Team U.S.A. is proof that you can achieve anything when you work hard and want it bad enough. Not only does this apply to sports, but it also applies to all aspects of life. In order to get anywhere, you have to put the effort in and want it more than anything. The Olympics is overall an amazing and uplifting event, it encourages so many people at home to go after their dreams. This year Team U.S.A. got to contribute to that encouragement and they couldn't be more proud.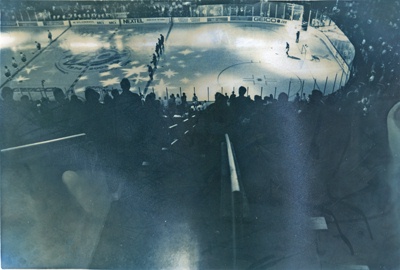 © Daniel K., Bethesda, MD