Pine Valley
April 2, 2018
I love to golf. I love everything about the sport. First, your game is just dependent upon one person - me. Second, when I hit a good, or great shot, it makes me very happy because there is no better feeling than striking a golf ball well. Third, I enjoy being outside in the sun, walking with my friends, and meeting new people. I have been able to meet young and old golfers, and the nice thing about golf is people of all ages can play the game together.
One of my favorite recent memories is a golf trip trip I took with my dad to Pine Valley, New Jersey last summer. The trip has a lot of great memories because I went with some of my good friends and their dads, played my favorite sport, golf, and played a very famous golf course that is considered to be the best in the country.
I enjoyed this trip because usually when I go on a trip, it is with our entire family, but this time it was just fathers and sons. My dad drove from our home to New Jersey which is about 5 1/2 hours, and he let me play my music as loud as I wanted. Another one of my friends came in the car with us because his dad was already traveling to New Jersey.

The other three boys on the trip were Brice, Will and Chaz. We all really enjoy golf and have a lot of fun playing golf courses all summer. All three of us had just made our high school golf teams and had a weekend off before school started. Each of the dads and the sons are all very good friends and they knew it would be a great time. They said we would have some guy time, but I was just excited to get to play golf somewhere new. The course we went to is called Pine Valley; it is a very old course with a lot of history. It is very hilly and sandy. It also has a 10 hole par 3 course. That means each hole you attempt to make no more than a score of 3. In other words, three swings, which might mean a shot from the tee with an iron and 2 putts. The course is very challenging, but I enjoyed the challenge.
We arrived Friday night in late August in the dark. It was so dark that we could not see much of the course. We were staying in a cabin in the woods and instead of driving a car to the course, everyone uses golf carts. The next morning we woke up very early and drove our carts to the main clubhouse which had a really big breakfast. We played 18 holes, had lunch and played another 18 holes. After that we played the ten hole par 3 course, which Pine Valley calls the Short Course. Each hole is a replica of a hole on the main course. Our dads were too tired, so just the four boys played the Short Course.
We had to put on jackets and ties for dinner, and I ate a big steak with asparagus and a baked potato. After dinner, our cabin had a putting green behind it; we played chipping and putting games with some guys who were in the cabin next door. They were all in their twenties and were very nice to us. In fact, we actually beat them in the putting contest!
The next day we woke up, had another big breakfast and played 18 holes. We had lunch and then drove back to Pittsburgh.
It was a very enjoyable weekend with my dad, my friends, and their dads, I was very fortunate to play an old, famous golf course.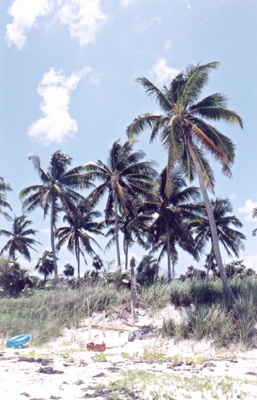 © Samantha D., Southbury, CT