My First NBA Game
January 11, 2018
When I was in 4th grade I remember waking up on Christmas day as joyful as ever hoping that the new NBA 2k11 would be under the tree and when I got downstairs I opened all my presents and didn't end up getting 2k until my mom said "wait! There's one more gift." Sure enough, she handed me the new 2k. I later went upstairs and played as every team but one team stood out from all of them and it was the OKC Thunder because I liked their jerseys and I thought Russell Westbrook was just the greatest thing ever.

Skip ahead a year and I asked for one thing for Christmas and my birthday, I wanted to sit courtside at a Thunder game and sure enough, my mom got us courtside tickets to the Thunder vs. Bucks game and I was happier than a little kid at the beach for the first time. In fact, my first NBA game will always mean more to me than anything else I did for the first time.

We got to the game in late January and I walked into the stadium and saw the monstrous court bestow before my eyes and my jaw just dropped, I remember saying "Wow mom if only I could play here!" as the game started I watched KD splash threes, Harden make crafty offensive plays, and my favorite player Westbrook dunking on OJ Mayo to electrify the crowd in the 3rd quarter but no moment will mean as much as what happened after the game

After the game was over I was asked to go talk to Westbrook as a request from him (obviously my mom pulled strings) when I got over to Westbrook he gave me high five and handed me his jersey and signed it. Then had the worker get me tickets to a game on my birthday not courtside but really close.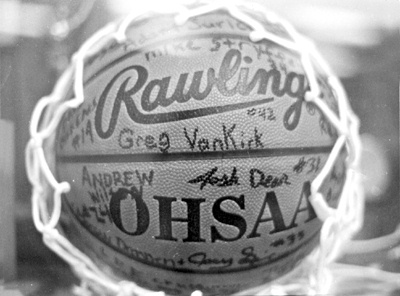 © Kaley D., Sebring, OH