Crossfit Is the Most Self-Efficient Sport
February 8, 2018
For everyone who disses crossfit, this letter is for you.


Many people dislike crossfit because it is "dangerous", "unhealthy", "harmful", etc. But if you notice, there is a pattern to the many false claims. All the misconceptions people say about crossfit have never actually consistently done it. I know this because if they have, their thoughts toward crossfit would be completely different. Crossfit is one of the most safe and self sufficient sports out there, and it has many benefits.
Many sports that are played can be dangerous and even fatal. Especially those that involve a lot of contact, such as martial arts or football. Many ambulances have been called, and many hospital trips have taken place. In my 9 years of crossfit experience, not one ambulance has been called, or any bones been broken. This doesn't mean it has never happened, but the number is significantly less than most sports. All the injuries that happen are because of a mistake the athlete made themself, not because of someone else's mistakes. Each movement is designed to work a part of your body in a completely safe way. You get to decide how much weight to put on your barbell, adjust your bar height, and make new friends and family along the way.
Some people who hate on crossfit feel its too intense. This is completely understandable. It is a very intense sport, if you want it to be. You don't even have to call it a sport if you are just doing it for a daily workout. Usually, each box (slang for crossfit gym) will conduct their own competition. They usually consist of members from the box, and it is completely optional. If you're feeling up to it, you can give competition a try. The good thing about crossfit is that you can go at your own pace, making the workout as tolerable as possible. People will watch the crossfit games and be scared to try what they see. Of course, what you watch on T.V. is misleading. The competitors out there are the best of the best. Starting out is nowhere near that kind of intensity. The coaches will invest their time to make sure to teach and guide you through each and every movement, to ensure safety and efficiency.
Another reason to do crossfit is because it doesn't just work your legs, or just your arms, it works your whole body. Endurance, agility, balance, coordination, and so much more. All the olympic lifts and specially designed workouts help out with our daily lives. You don't need a special trainer or a special gym. The crossfit community is what makes crossfit what it is. Everyone who is passionate about the sport wont judge, and you'll have a good time suffering and sweating together. Crossfit workouts consist of running, Pull-ups or other rig movements, olympics lifts and more. It is a really great program, and is super healthy for your body. It doesn't wear you out, it only makes you stronger and more coordinated.
Crossfit is a well thought out and well organized program. Everyone who does it can agree. Crossfit is for everyone. If you dont think its right for you, give it a try. You might be surprised. It is a safe way to workout and make new friends. It may be a bit pricey, but it is totally worth it in the end. It may seem intimidating at first, but it really is fun and helps get you in shape.
Sincerely,
B_Davis.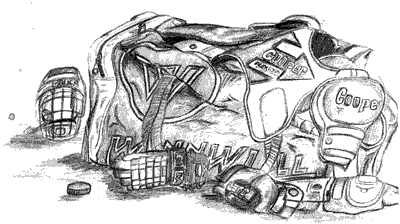 © by Casey C., Rockport, ME