NBA All-Star Voting System
January 19, 2018
It has been said that the NBA (National Basketball Association) should change its all-star voting system for the annual NBA All-Star game . According to billionaire and Dallas Mavericks owner Mark Cuban '' The system is positively destroyed.¨ I believe that the NBA should change the system because the current system overlooks the best players to choose players only from popular teams. This isn't fair to the most hard working and talented players in the NBA who deserve to be selected.

Demarcus Cousins of the Sacramento Kings is putting up astounding numbers ( 24 Points Per Game and 12 Rebounds per game] but was not originally selected to the All-Star game. Nikola Vucevic, Damian Lillard and many others over the years, have been snubbed from the All-Star game. Meanwhile, Kobe Bryant who only played 6 games this season and Carmelo Anthony who had sat out for most of the season were not only in the all star game , but were starters. That is because only fans get to vote for all star players. The players and coaches should get to vote.

Look at the stats [On the next page] and see who you think should be in the all-star game, Player A [ Mike Conley Jr] or Player B [Jeremy Lin]. Player B has twice as many votes as Player A, despite Player A's better performance, simply because B (Lin) plays in Los Angeles and A (Conley) plays in Memphis, a less popular team. It's a popularity contest where fans vote for their favorite players, instead of the best ones.

People want to vote for their favorite players. But wouldn't fans also want to see who players of the game such as Kevin Durant and Lebron James would pick as the best players in the league? The all-star game is very important , because fans get to see the best of the best square off against each other. What's the point, if they're not the best? Some argue that the current system is better because it brings more revenue, but I disagree because many people like me would prefer to see the best players play, which would bring up Television ratings which would bring more revenue.

The All - Star game originally started to see who was better the east or the west. But, how could that be accurate if we are choosing the most popular instead of the best . If we keep on choosing the most popular instead of the best it will eventually change into a reality television show and is that what we want?

It is essential to recognize, that the NBA should change its All-Star voting system so that the best possible players are selected , and not so the most popular players.
The NBA should change its voting system to include a coach and player vote.

Player A [Point Guard}
Player B [Point Guard]
Points Per game : 16.9
Points Per game: 9.8
Assists Per game : 5.3
Assists Per game : 4.6
Rebounds Per game : 3.2
Rebounds Per game : 2.4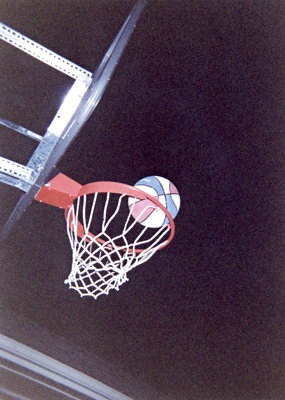 © Laura P., Highland Village, TX