My Jordan Camping Trip
January 18, 2018
When the plane landed in the Los Angeles airport, I set foot on the land of the America once again. This time was different from before, because this time I would meet my idol, Michael Jordan.

This camp was held by Jordan, and Jordan would teach us by himself.

We couldn't wait for seeing Jordan at once. When Jordan appeared from the passageway, we were excited next to death with scream and clapping. The reason why I was very excited was that this was the first time I saw Jordan. Then, he said today was opening ceremony, so we would have a ticket bonus which was very stimulating. Jordan take out a very small piece of paper and said,'Tommy!'I couldn't believe what I had heard, the award winner was me?I was very excited and nervous, I stood up slowly, and ran to the stage. Everyone watched me with envious sights so that there was full of pride inside my deep heart . Jordan clapped my shoulder and said with a big smile'congratulations, my lucky dog.'After that, Jordan gave us a speech, he said very strictly,'the most important to play basketball is persistence and hard working. If you want to be a good player, you must train more and work harder than the others. But if you think basketball is just a game, you'd better give up early. 'This speech changed me. I work harder than before and regard basketball as my life dream. This was the first day in the camp.

I trained basketball, got some foreign friends, went shopping and practiced my English. I learnt a lot from this trip. This experience, this knowledge and this friendship must be the priceless fortune in my life, which I will never forget.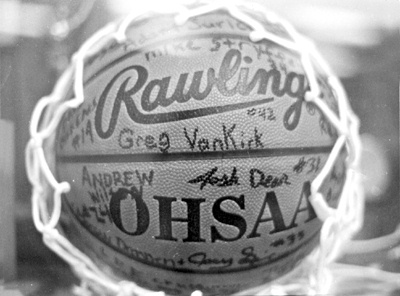 © Kaley D., Sebring, OH