I Am a Dancer
November 22, 2017
I am a Dancer.
I was born the first moment an infant's body swayed to the eloquent thumping of a drum.
I am Misty Copeland executing a pristine cabriole within mid-air. my head exceeding its atmosphere in a poised approach.
I am Doris Humphrey exposing my audience to the raw outlining and bones behind my inspired articulations.
I am Beyoncé putting forth movements that are striking and enticing for the attention of others, grasping every outer emotion they put forth in front of me to later unchain and set free once the music has ceased.
The names of those who have made my superpower a reality remain dear to my heart... Mikhail Baryshnikov, Margot Fonteyn, Katherine Dunham, Jennifer Lopez, and MC Hammer.
I have wept with pleasure show after show, laughed with pride over a peer's wardrobe malfunction, and stood with head bowed in grief over the dire fall of some of the great and inspiring dance mentors I've had the pleasure of meeting.
Throughout the course of the day I have been called upon to be a leader, choreographer, nanny and caregiver, a cook, comforter, strategist, psychologist, sister, and above all, a memory keeper.
I am a paradox.  I find that when I communicate a unique combination through dance unlike my shy demeanor, I proceed to appear as myself much more of the time.
Acquiring the fundamentals of dance cannot be substantiated, however it is I whom discovered that "the technique" learned is the technique applied.  In fact, the dancer must incorporate a specific role to foretell the reasoning behind the story through countless imagery.  I just so happened to have the oppurtunity to teach and critique like-minded intellects how to do so.
I am the most fortunate of all who labor.
A singer is expected to apprehend a collection of melodies, all with having the ability to tell a wrong note from a right.  I am encouraged to apprehend this collection and take this a step further: by overlooking past mistakes from previous performances and later applying the knowledge that I know, and anticipate that I will not make such an error again.
An actor has been bestowed with his companion in order to work with his craft... a script.  A dancer knows nothing of a script, but an open-mind.  It is the dancer's oppurtunity to work with what they have been given and create a piece that is emotionally touching on the soul.
I am a warrior fighting my battles alone and taking the chance (no matter how precarious) on any given day.  Combats encountered test my agility against self-doubt, arrogance, competition, and high-handedness.
But I have great allies: Confidence, Patience, Determination, Family Encouragement, a desire to get out and do more all cling together in back of my brain screaming powerful utterances.  And who do I have to thank this gratifying oppurtunity, for you my parents and guides.  You whom have set my best interests and above all, delegated your attention to seeking my own potential.
And so I have a past that surfaces in limitless hours of practicing in the studio.  I have a present that can be looked upon as testable, underpinning, and horrific; however, I get to relish the times spent with other ballerinas like myself, whom are to soon become one of the "Greats".
I am a dancer... and I thank my mentor Mrs. Cassidy for it every day.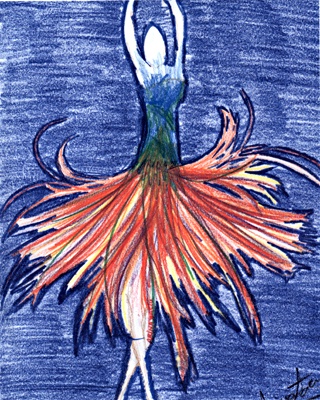 © Arina Z., Euclid, OH