The Football Field
November 15, 2017
Always with the fresh cut scent. It's like that smell is meant to be on that field. The field beautifully maintained everyday. It's those one hundred yards that champions are crowned on and where losers hang their heads walking off from. A football field has played a part in my life ever since I was five years old. Starting with flag football, was like a young football players dream. Out with your buddies doing something you all love. I remember the first time stepping on the field as a kindergartener all nervous and having no idea what to do.
The field has also brought me many friends that I still have today because I met them while playing. The field also teaches you that in order to stick with football you are going to have to learn to be tough as nails. From the constant pounding getting hit on your butt over and over again for seven years you become accustomed to it. I've grown up and lived in Wilbraham all my life and going to see the high school team go out every Friday night was something I wanted to be apart of my whole life. I watched the field on TV for the first part of my life when I didn't really understand how football worked. Gradually, my Dad explained how the whole game worked and I really liked the concept. So, I asked my Mom and Dad if there was any way I could get out on that field and do what those guys were doing. So, here we are today writing about how I love being on the football field and love playing the game.
Then, we move to the practice field. We all know, not just in football but in general, without practice your not going to succeed very often. The practice field is where you learn and better all of your in game skills. Then, come gameday because of all the work you put in throughout the week you're ready to go and can win that game. The field on game is a sight like no other. The lights shining high in the sky, the fans piling in and watching the sun fall and turn to night time. Hearing that announcer's signature voice that I've heard growing up. Then finally hitting the field in what seemed like an endless day waiting for the game's opening kickoff. But finally that time has come. Now it is time to show everybody how hard you've worked all year for and went all out in practice for. The football field has brought me so many great memories and taught me so many great things in life from how to keep going when the going gets tough to just simply get up after someone knocks you down and stay tough.
That is why: I love the football field,what it has taught me, and why I love simply the game of football.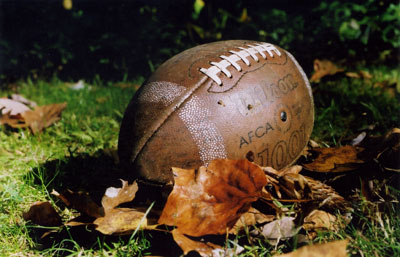 © Michael L., Bethesda, MD