Buzzer Beater
November 2, 2017
So it was about 6:45 A.M when I woke up that day. It was a great day, I had a home game that day. I had all my stuff for my game already laid out, such as my jersey, shorts, warmup, socks, kneepad, headband, and lastly my shoes. At about 7:10 A.M I left out the house to get on the bus. When I got to the bus stop the bus wasn't there yet. I was standing there when another person on my team showed up and that was Jeff. He came up to me and we were talking about the game. He said, '' You ready for the game?''

'' Yeah, are you?'' I replied.
''Of course,'' He said.

Then bus showed up and we got on and got in our seats. I put my headphones in until we got to the school. When we got to the school we went inside got breakfast and waited for the bell to ring so we could go to class. While we were waiting I saw another one of our team's players and that was Bob. When I saw him he was in line when I was going to the same line. I asked him if he was ready for the game and he said,'' Yeah, it should be easy the team we play hasn't won a game yet.''

''Yeah it should be so we can take an easy W,'' I said.

The bell finally rung to go to homeroom to start the day. When I got to homeroom there was a kid who also plays on my team. I said,'' Jack you ready for the game?'' He just nodded his because he doesn't really talk. Later in the day was our last period which was ELA and we had taken a test a couple days ago and I would need to pass that test to play in today's game. She said nobody got a 100 on the test. While we were working on a paper she called us up one by one to tell us our grade. This was a big test my grade depended on it. When she got to my name I was so nervous but then she said I passed the test with an B an 89%. I was so happy but I kept it in and went back to my seat.

The day was finally over and I was headed to the locker room to see what everyone was doing. Coach said our whole starting lineup couldn't start besides Jeff because he is the only big man we have that can start. Everyone's first thought was that they had a D in one of there classes. He said,'' None of you have D its just since the team we are playing didn't win a game yet we are letting other people start this game.'' We had one hour and thirty minutes till tip off. I was in the gym shooting around for a little bit to get loose. It was about 4:45 and tip off was a 5:30. I shot around until 5:15. Our coach called us into the locker room and gave us a quick speech. We got into our layup lines and started layups. At like 5:28 we went over to the bench got a little bit of water and got ready for the game. The refs came to the court to start tip of and then the game started. We won the tip and we scored right away. With like four minutes left in the first quarter I went to check in. When I got in we were up about 15-7. Time passed and there was like 6 seconds on the clock and we had the ball.

Our center rolled the ball in so the clock didn't start. At the time our point guard was Bob. He let the ball roll in just before half court he picked it up dribbled and with 3 seconds left he passed it to me. In my head I was thinking about where should I shoot the ball from. My heart was racing superfast and I had to think quick about what to do. When the ball touched my hand's I was just behind our logo which is like 5 feet away from half court. I got the ball and shot it extra fast and held my form. When the ball left my hand I knew it was going in. It bounced around the rim a little bit and then swishhh goes the net. The crowd went wild and so did the team. It was one of my greatest shots ever. Even better we went on to win the game with a final score of 54-21. That is my story about my buzzer beater.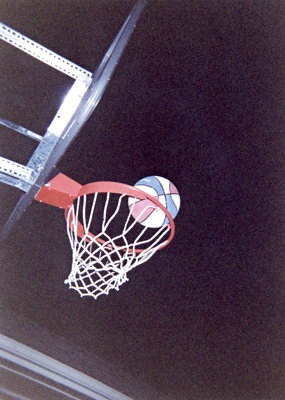 © Laura P., Highland Village, TX