Championship Day
October 27, 2017
I wake up knowing what day it is. It is the basketball national championship. My team made the championship, and we would play later that day at 6:30 P.M.

But when I checked the time, it was it was still just 5:00 in the morning. I was so ready to play I couldn't even sleep. Since I couldn't even think about sleeping, I decided to watch some basketball highlights, which I usually do before every game. A couple of hours later, I ate breakfast then went to my coach's house with the rest of my team until it was time for the game.

We talked about our game plan for a while, then we left for the game. When we got to the gym, there were a lot more people there than I expected would be. The game before ours went to double overtime, so I was even more excited to play than I had ever been before. We started the first quarter with a fast pace. Both teams trading basket for basket.

We ended the first quarter down two points, and we were hoping the second group could bring some intensity in the second quarter. We were still in a close battle throughout the second quarter, but we managed to come out of it with 6 points more. During halftime, we changed our defensive game plan to be more aggressive and get more stops.

We started the third quarter off great, scoring six straight points! We finally started getting things going, then the referees had to kick a couple of crazy fans out for yelling very disrespectful things to the referees.Things just started going downhill from there.We started the fourth quarter down, but we had enough time to still pull off the win. With the game tied 56-56 and one minute left, the other team inbounded the ball. They threw a pass to half court, and my teammate stole the ball and threw it to me; I get fouled. When I got to the free throw line, the crowd was roaring. I could barely hear my coach yelling, "Take your time, Jay!"

I tried my best to block out all the noise. I made the first free throw then it got even louder; all I could hear was, "MISS IT!" In spite of that, I still made the second one.

We were only up two points, so it was possible that the other team could tie it up with a two, or go for the win with a three. They rushed the ball down court and set a screen for their best shooter in the corner, the point guard passed him and he shot the three for the win. He made it, but it didn't count because the referee called a travel.

We won the championship. It wasn't the prettiest but a win is a win,especially if it's the national championship.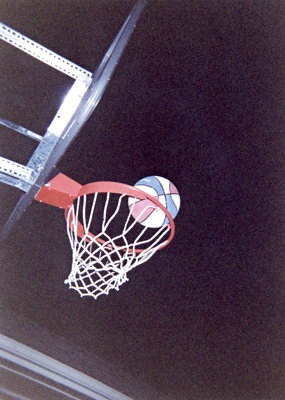 © Laura P., Highland Village, TX