A Great Way to Spend a Sunday
October 26, 2017
An ideal Sunday consists of sitting back on a couch, turning on the TV, and watching your favorite teams on the field playing football. A game filled with crazy touchdowns, broken tackles, big hits, interceptions, amazing athletes, and last second plays. Every week there are 53 players on each of the 32 different teams that all play from 1-8:30. 32 teams split into 2 conferences with 8 divisions all spread over 22 states makes for great competition and great entertainment for people all over the world. A great component that makes the NFL so great is something called fantasy. This is a game where you and your friends can draft players and gain points depending on how that player does that week. Many people put a lot of money into this, and it turns into a big competition. This is also great because even if your favorite team isn't playing, you can still route for your fantasy players. The NFL is interesting because on any given play anything can happen. Every game is unpredictable and can change very quickly. This fast- moving game is one of America's most popular sports and is clearly interesting to watch and route for your players and teams. There are many people that will do anything for their teams and won't miss a chance to watch them every Sunday.
The National Football League (NFL) began in 1920 and ran for 46 years when in 1966 they merged with The American Football League (AFL) to form the NFL that we know today. The NFL has been expanding and upgrading since this time and has really changed the sport of football over these 51 years. Each team works on getting themselves the best players at the most important positions to ensure their success. The plethora of great athletes across the world helps NFL teams build their best lineups. All these players come from all over the world to find their team to play on and all have the same goal. This goal is to play on a Sunday in early February, in a game called the Super Bowl. Every year the Super Bowl decides who is the best team in the league and all 32 teams strive for this goal every season. One of the best parts of the NFL is how unpredictable everything can be. Whether it's a big upset, a player going to another team, an injury, or really anything keeps the game intriguing and keeps people watching. As you most likely watch your favorite team every Sunday, it is interesting to follow some of the best players in the league. New records are set every year by some of the best players in the league. Also, as much as scoring a touchdown matters, most players cannot resist celebrating. Some of the celebrations after touchdowns are very creative and interesting. These celebrations draw a lot more fans and a lot of people copying their moves. It is a great addition while watching these games to see some funny celebrations, such as the Lambeau leap preformed by the Green Bay Packers at Lambeau field. All these players work harder than most people on a daily basis, but it all pays off on game day when they are out on that field in front of tens of thousands of fans representing their team. Even though the NFL is made to have competition between teams and players, the NFL has grown so much more than just playing the game of football.

There is a whole culture that comes along with the NFL that is enjoyed by fans of every team. If you go to a game you find yourself very comfortable with thousands of other fans routing for your team. Besides being able to watch the great game, the stadiums have worked on games being a great experience. There is great food, concession stands, team apparel and much more. Most people do not like Sundays because the following day is Monday is obviously not everyone's favorite day. However football has made many people look forward to Sundays. People can start their day by watching the 1 o'clock games, and then the 4 o'clock games, and lastly a Sunday night game at 8:30. Also, to make the week even better there is always a Monday night game, and a Thursday night game. This keeps the energy of the players and the fans throughout the whole week so that you never have to wait a full week for more football. Another great part about being an NFL fan is bragging rights. The game of football is filled with thrilling plays and amazing athleticism and the NFL represents that perfectly.
Coaches and owners do the best they can to get the best possible players and to help gain money and fans for their teams. NFL franchises range from costs of hundred's of millions to billions of dollars. These teams have all done a great job with branding their teams and getting them out in the world to gain fans. Another great way the NFL gains fame is from the draft. Every year each NFL team gets 7 draft picks throughout 7 rounds to draft any college player to add to their team. This provides amazing young players to help your team succeed. This attracts a lot of attention from college athletes and a lot of college football fans around the world. NFL football is one of the most-watched television broadcasts in the whole world every single week. The league keeps growing and expanding every day and is just getting bigger. The NFL has shown no signs of fading and should continue with its success for a very long time.

When thinking of any weekend, it is hard not to think of watching some football at some point. Football has really become a pastime for many people during any given week. Many people watch just to see some good football, while other's watch to represent their favorite team. There are many reasons to watch NFL football but it is evident how great it really is. It gives players a chance to prove themselves, and gives fans something to route for and fall in love with. Clearly, the whole point of the NFL is to play and watch the sport of football but, even without the playing, the NFL has created a family. Any fan of any team is part of this huge network that the NFL has created. It has brought players and fans closer together and has built amazing bonds. At the end of the day, as important as the huge plays and crazy endings are, the NFL has introduced so much more to the world than just football. It has started a culture that will live on for centuries and has created so many opportunities and careers for people, but most importantly it has created a lifestyle for fans and players all over the world.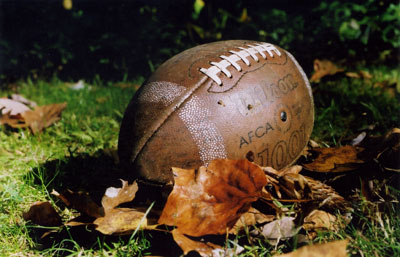 © Michael L., Bethesda, MD