State Title
October 24, 2017
Excelling in academics. Excelling in athletics. I have done many great things, but nothing that has ever been good enough to satisfy myself. I always felt as if I needed to do more. I have always had my heart set on being the best, not just better than most. I live life with a strict mentality that is "beat the rest, be the best."
I remember it as if it was just yesterday. At seven thirty in the morning I stepped out of my truck and the cool, crisp air filled my lungs and hit me like a ton of bricks. I walked into my favorite place on the planet, M-66 Bowl. It was the day I had been looking forward to for months, the day of state finals. As I walked through the doors, I was greeted at the door by my fellow coworkers and the smell of lane oil and stale beer. I walked down to the room where I kept my over abundance of bowling equipment. I slung my backpack over my shoulder and toted a couple of my bowling bags down to the lane I was assigned to.
As I looked up and down all fifty six lanes of the bowling alley, I saw bowlers everywhere. I sat down in the pits for a few minutes, just focusing. A voice came over the announcements, startling me. As I walked out on the approach to stand and face the flag during the national anthem, I couldn't help but hold my excitement. The day had finally came, and I knew exactly what I was going to do.
After warmups, I felt somewhat confident. My good friend and Tyler was assigned to coach me for the day as I competed. Tyler posed as an emotional support coach. Not to say I am an emotional person, but every shot Tyler was there to keep me fierce, happy and confident. As the day went on, so did the jokes between Tyler and I. My bowling was not superb, but it was just good enough to make the cut to top sixteen. As I walked down to my newly assigned lane, Tyler and my dad followed me, each lugging a ball tote.
Once Matchplay started, my nerves began to downfall. I got very comfortable, and won my first match by over seventy pins. It seemed as if nothing could go wrong for me, I knew each lane like the back of my hand. However, the next match was a different story. After the first game of the second match, I was down by forty pins, which was a big deficit. Just before game two started Tyler told me "Smalls, just go out and show him who's best." After Tyler talked me up, sweat beating down my face, I went on to win my second match, overcoming the grueling deficit. My coaches stood in the crowd behind me, but left Tyler, my father and I down in the pits alone to do our dirty work.
As I went into my third match, it was somewhat of a breeze. I got comfortable once again, and beat my opponent by a decent amount. Once I won my third match, I was headed for the finals. In the moment, everything seemed surreal. As I looked behind me I saw my teachers, friends and family all out supporting me. I couldn't believe all of the support behind me. Everyone patted my back and told me "One more win, show them who runs the place." I had never had so much support, and it just added fuel to my fire.
As I looked up from the pits, I could see in everyone's faces they believed in me. I for once, also believed in myself. I felt my emotions begin to build up, and I had never wanted to win anything more. As the match went on, it remained close, mostly within ten pins. My opponent got out to a fast start, but I finished stronger. After a quick pep talk from my father and Tyler, I was ready to go out and win. Coming into the final tenth frame I had a chance to seal the deal. For the win, I had to strike. I heard the ball roll up the ball return. As I grabbed the ball, set my fear and began my backswing, everything went numb. I watched the ball start to move away from me, then all ten pins exploded. I had done It. The crowd went crazy, and all I could do was watch.
I had never been more proud of myself. Winning state is the best thing I have ever done. I had never done anything that meant so much to me. For once I was the best, and I loved it. For once, I was at a lost for words. I couldn't say anything, I was shocked. My bowling friends and family filled the alley with joy, as we all walked down. Therefore, Winning state was a very important and important event in my life.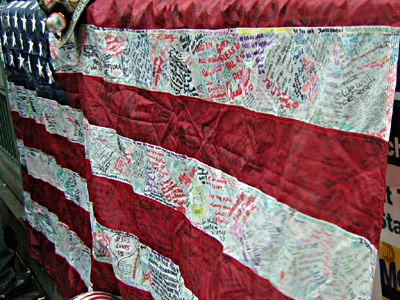 © Brittan S., Chino, CA