Sports Team
October 19, 2017
Being on a sports team is a good way to learn how to work with people and communicate. Being a good teammate is a big part of being on a team. It can affect how the team plays during a game. Always try to be positive, if you have nothing nice to say don't say anything at all should be something you take to consideration when on a sports team. Bring down a teammate could hurt the team not just the person you said it to.
When on a team you should think of your teammates as your family. No matter what always have their back. A team is like a well oiled machine, if one of the team member is absent from practice or has to be benched during the game it affects the whole team and the way they play. Those types of things can be avoidable. You made a commitment to the team to be at every practice and to behave in a manner that would not keep you from being benched during a game.
One thing to remember when you are on any sports team, just have fun. If you are having a bad day or someone made you mad use sports as an outlet. Release any stress or pent up anger as good energy when playing. Therefore you are not hurting anyone mentally or physically. When  you are in a game and your coach is telling you to fix any mistakes during a game just listen to him. Take what he is telling you and apply it as the game continues. Try to remember that the coach only wants what's best for you and the team.
Being on a sports team has its perks, for example spirit boxes. When you have a tough match and need encouragement, the feeling of someone giving you a box full of the things you like plus the beautiful decorations on the box will surely do the trick. When your team wins a game, the thrill is one of the best parts. I almost forgot to mention the pep talks. When your team is feeling down and you guys huddle up, the captain steps up and with a great pep talk that makes you go out on the court or field ready to conquer the game.
Being on a sports team is one of the best decisions I have ever made. It has helped me with my people skills and sportsmanship. On all the teams that I have been on I have met and befriend a great amount of people whose company I enjoy.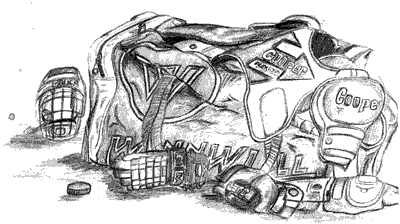 © by Casey C., Rockport, ME