Keep Running
October 17, 2017
Have you ever met someone that just with the look in their eyes, you can feel that you can become friends with them very easily ? They make you feel welcomed. Well… that happened to me unexpectedly. I clearly remember the day August 15th, 2016 the 1st day of field hockey preseason.

One of my friends from school wanted me to play field hockey for the next season upcoming but I didn't want to because she would get hurt when she played. Most of the time she would be sore or in pain from running. There would be other times when she got injured, she would get hit with the ball and have huge bruises. That's what made me not want to play. Then after a while of hearing about her play… she finally convinced me to play.

At the end of that year I went to the interest meeting, I was shocked with all the requirements that were needed. The paper with the requirements said that I had to be able to run 2 miles non-stop, do some push-ups under certain minutes, and sit-ups. My mind was blown because I've never before had done any extreme work-outs like that. Before field hockey I never thought of working-out being very important and good for me.

Then when preseason came, I was there. The 1st day of preseason was extremely hot it was really hard for me because we did a lot of conditioning. I got home with pain and I was extremely sore the next day. The next day I don't know how but I managed to get up and go to preseason. I was so confused at preseason, I didn't know what to do or how to play the positions at all. Then a girl starting talking to me on the field she explained to me how to play my position and what to do at games. She automatically became my friend. Me and her got so well along because I honestly thought of quitting. I thought I was really bad at field hockey because I would get frustrated when I couldn't do something right but luckily my friend helped me. My friend motivated me to keep trying and then later on I started to get a little better.

Now I'm playing this season and I think I've gotten much better compared to last year. Now I don't get frustrated whenever I work on stick skills. The drills we did last year are easier for me now and the new drills we are doing are becoming easier and I'm a little better skilled thanks to my friend's help. There's still some things I struggle with but I keep practicing. At games I still get nervous because I always feel that I'm going to do something wrong. When I play at games I always tell myself to not mess up and also to not get hit. After all I'm very thankful with my friend for helping me, letting me be part of the team and for the amazing experience I felt knowing that I was part of a team with all the same interest to play, have fun, and score goals!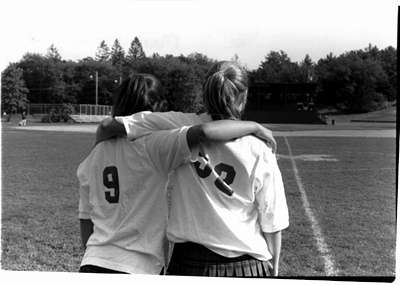 © Kelley C., Marblehead, MA