The Swamp
October 10, 2017
It is a Saturday afternoon. You can smell the barbeque from miles away. We drive up the hill and see all the signs up and down University street. Overpriced parking everywhere. I start to feel the energy buzzing through the air for what awaits later tonight. We sift through the hundreds of cars and finally find parking. I feel the humidity and heat the second I step out of the car. Walking down toward the stadium gives me goosebumps.
College gameday is here. Everyone is anticipating game. My family then go to tailgate. Catching up with old friends and family and watching football. The chicken wings taste divine and I cannot stop shoving them down. Anyways. It is almost game time. What everyone has been waiting for. My family and I then head over and hand our tickets to the security and they scan it. We walk straight to our seats. As soon as we got there the scene was unreal.
We got to the stadium just as the band was playing and it was electric. He fans bring the energy and uniqueness to college football unlike any other sport Many people understate the band but in college football it brings the tradition and the spirit all together. Soon all the game day traditions will start and after that the showdown. First tradition was the school song and the alma mater and then Mr. two bits. The whole crowd screams TWO BITS FOUR BITS SIX BITS A DOLLAR ALL FLORIDA GATORS SAND UP AND HOLLER. This chant has been around for decades and led by the man himself Mr. two bits who has been on the field for 50 years plus leading it. Next the band forms an big U and F and makes a tunnel for the team.
The menacing gator shows on the screen. Throughout the stadium I hear Duunnnn Dun. Duuuun Dun similar to the jaws music. Then the gator rises from out of the water and the announcer says The Swamp Where only gators get out alive....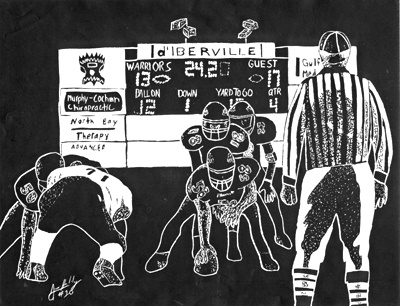 © Jason H., D'Iberville, MS