Midnight Madness
September 26, 2017
I remember it so clearly. I'm walking down the pavement, its pitch black besides the dim field lights slowly getting brighter and brighter as I get closer to the door. Its 10:53pm and my sophomore year of football starts in an hour.

It's around 11:30pm, we start in 30 minutes. All of us are strapping up our helmets and putting on our work out shorts and shirt and we hear the band blasting notes through their instruments. As all of that is happening the parents, students, and the whole Boswell community filling the stands on this late Sunday evening. We start getting closer and closer to Monday morning aka the start of football season, everyone is getting very anxious. The whole JV and varsity gets herded through the one exit of the field house. We see and hear the excitement of the fans as we walk out of the locker room on to the field. The whole team gets on to the field, were gathered up behind the end zone. From the stands you see an array of white and blue helmets and jerseys. There is 2 minutes left until we can start practice, our coach gets us on a knee , we all know what's about to happen once the clock runs out and our coach totally changes our attitude after his speech. The clock was down to 30 seconds, Star telegram reporters were filming the ending of the speech on their iPhones to post on twitter. The crowd starts going "5…4…3…2…1…" the clock hits 12:00 AM as we sprint on the field while the crowd screams.

Now its show time, the first practice of the year is definitely one if the hardest. We start with a mental toughness challenge called County Fair. County Fair consist of 4 very tough and tiring stations for 5 minutes each. Once you finish that, you're ready for the season. Coaches from rival schools come to watch our "midnight madness" because the want to see what they're getting into when the step on the opposite side if the field as us.

Finally, Midnight Madness is a tough test to go through, but it's an amazing experience to go through. Playing football in a state where High school football is home is one of the best experiences you could go through.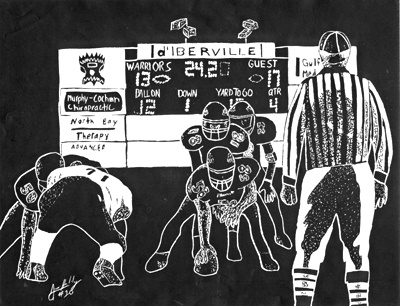 © Jason H., D'Iberville, MS