Overcoming Adversity
September 26, 2017
Knowing this play could end up with a badly needed win or a heart breaking loss I lined up with the taste of a win already in my mouth. The Friday night lights and the roar of the home crowd only pushed me on in my pursuit of a win. The center snapped the ball to the quarterback. The quarterback then handed the ball off to the running back. As time ran off the clock…10,9,8,7, 6, 5, 4, 3, so close to the goal line when out of nowhere a freight train came barreling into my side knocking not only the ball out of my hands but all the air out of my lungs. There I was laying at the one yard line. The play that meant everything ended with the buzz of the horn. The shot at going to the play-offs was over just like that.
After the devastating defeat I knew I could move forward with the taste of it in my mouth or I could choose to refocus and give it my all. Head Coach, Gary Patterson said "Good teams win games, but great teams overcome adversity to win it all." This has become a personal motto of mine since discovering I had dyslexia and dysgraphia in elementary school. In life you have to give it your all and work hard at overcoming adversity. Obstacles can stop you or you can climb over them and keep on moving forward. Working harder at finding out how I would read enable me to find out what worked for me and helped me to begin to enjoy reading. Defeat in a game and dropping the ball in the last seconds made me tuck the ball tighter and always look to my right and left for the unexpected.

Now I see obstacles as something that I can climb over and know that I will keep moving forward. Adversity will come disguised in many different ways. Some obstacles take longer to climb over and can feel like you'll never overcome. These times I remember Coach Patterson and rely on my faith to help push me forward. I try to always give my best and try my hardest. I understand that my best may look different than others, but I know how hard I worked to give it my all. Whether it is on the football field or it is in a classroom I tell myself that I will overcome and soon I will win it all.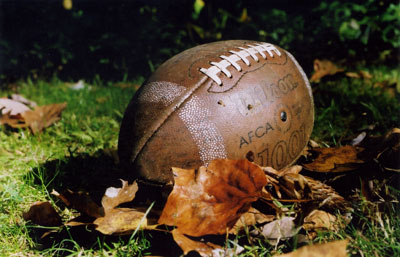 © Michael L., Bethesda, MD